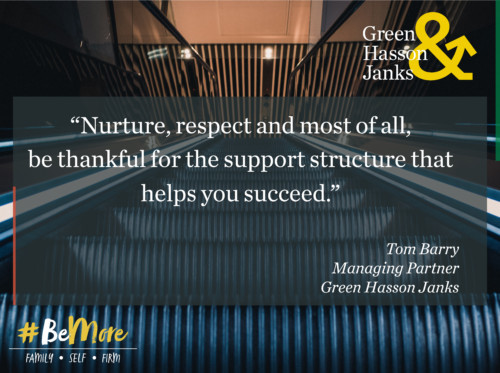 I spend my life balancing (well, at least trying to balance) the responsibilities of being a father and husband, leading a firm and taking care of myself. I truly love it and am blessed to have all of the opportunities life has afforded. However, in this busy life I do sometimes find myself drowning. Between a full time sports schedule with the kids, the pressures of my job, and my constant struggle to be healthier, I sometimes find myself at a loss. How can I get it all done?!? What is my best path forward?!? Thankfully, the universal support of my friends, family, coworkers and clients enables me to rise up and #BeMore.
But what if I didn't have that support network of a "family ?"Several weekends ago, my family and I had the opportunity to support a charity called The Giving Spirit. The organization provides immediate aid and a human connection to homeless men, women, children and families in Greater Los Angeles. If you live in Los Angeles, the growing issue of homelessness is evident everywhere and this organization is doing some great things to help. Throughout my life, I have volunteered with organizations that help the homeless, but this experience was different.
We had the opportunity to talk in depth with two gentlemen who had previously spent years on the streets. We heard their stories of survival against the toughest of odds, their path off the streets and their current successes. What struck me most, however, was not their stories. It was that I met both of these men before I heard their stories, and not for a moment would I ever have believed that they were once homeless. Talk about #BeMore! These men lifted themselves from the lowest place in society, which enabled them to lead their best lives. Statistically, both men should have died on the streets. Every vestige of loving support abandoned them, from their family and friends. Both had little reason to live and both shared moments in which they thought of ending it all. So what made them rise up from the streets? Finding people who cared.
Both men shared similar stories of a turning point in their lives when they realized they were not alone. The people they trusted encouraged them to move forward and they found a support network, which was vested in each man's success. A "family" if you will. Without this "family" they were initially unable to take care of themselves and, as a result, struggled to be productive in the world.
In a very dramatic way, this exemplifies to me the importance of "family" in the #BeMore philosophy. The emotional support system is crucial to one's overall success in life. It validates and creates self-worth. It provides an outlet to share our greatest fears and celebrate our greatest successes. Don't be afraid to rely on your 'family" and be sure to be "family" to others. Nurture, respect and most of all, be thankful for the support structure that helps you succeed.
The day also reminded me to put things into perspective. These two men lived as close to the edge as possible. They could not afford to sweat the small stuff. Every decision they made on the streets was life or death. Have perspective on the importance of things in your life. Stuck in traffic? Internet not working? Who cares? Its not life or death. Have gratitude for the blessings life has afforded and cherish them.
The entire experience was very powerful. Meeting these men and directly engaging with the homeless on the streets of Los Angeles was an experience that my family and I will not soon forget. I encourage each of you to reach out to support a cause that you find personally meaningful in order to show that you care.