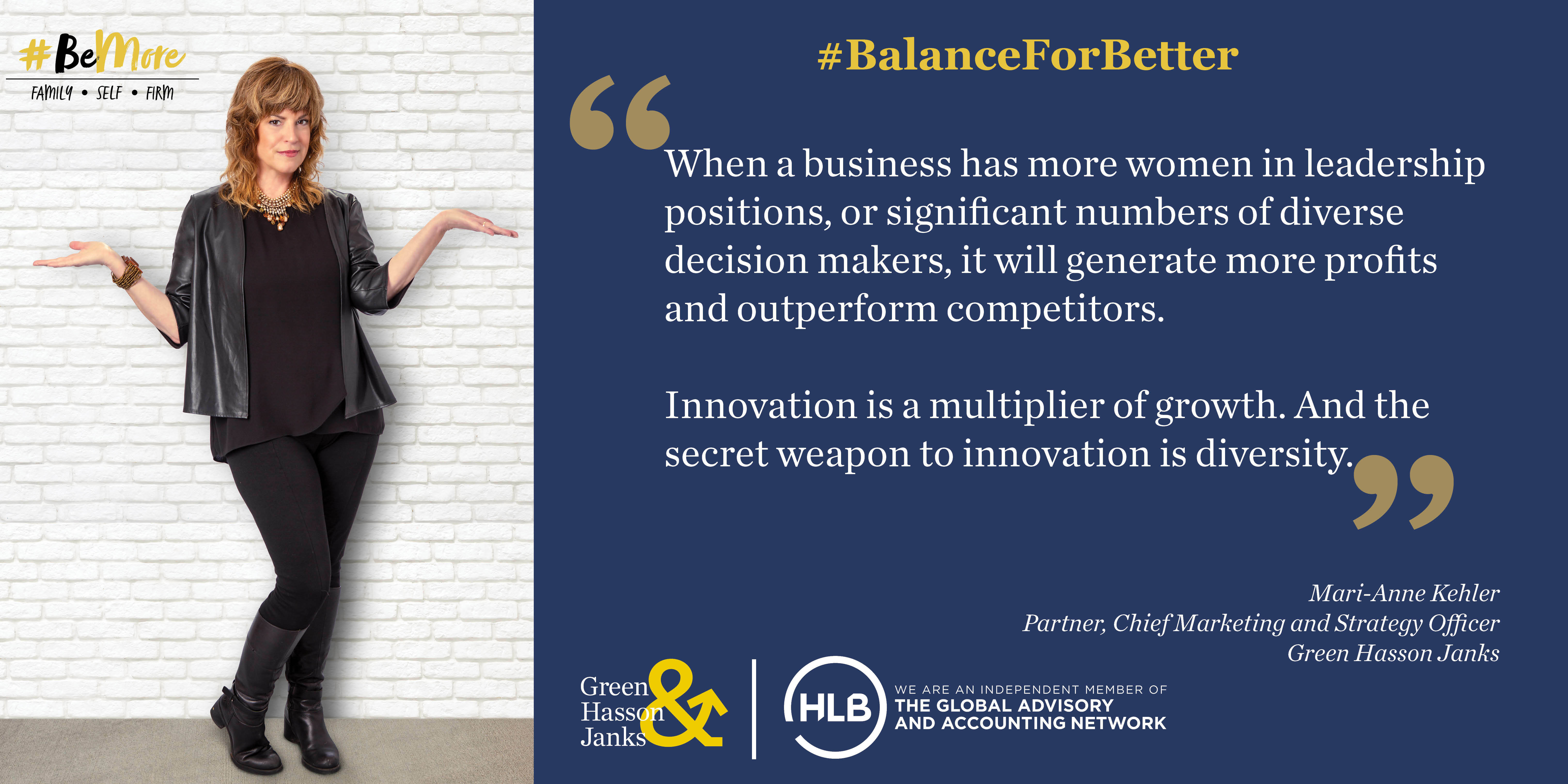 When a business has more women in leadership positions, or significant numbers of diverse decision makers, it will generate more profits and out perform competitors. Research backs this up: McKinsey found that diverse companies studied were 35% more likely to have financial results above industry average. Those business improvements include surges in innovation, which tend to indicate a company's ability to thrive. Simply said, innovation is a multiplier of growth. And the secret weapon to innovation is diversity.
Diversity drives innovation
"Innovation" is arguably the business buzzword of the decade. Sustainability and survival of most business models and industry sectors demand a pipeline of ideas. But many companies strive and struggle to unlock their potential in-house to gain that competitive edge. They invest in technology, build dashboards, create portals and attempt to measure innovative growth. But there's a secret weapon at hand that is often under-leveraged: diversity.
Diversity of thought is a clear business driver, perhaps the most powerful one of all. Diversity of thought comes from intentionally bringing different skills, experiences, talents and backgrounds together to supercharge ideation. A room full of "yes" men, or women, will rarely jumpstart innovation. BCG conducted a study that showed organizations with more than 20% women in leadership saw 10% more innovative revenue, brought about by new products or services. Different perspectives lead to better abilities to solve problems, which can advance product development, which in turn leads to better business results: revenue, profits, and event talent metrics.
Innovation drives revenue and results
The client experience demands companies innovate to meet ongoing needs and demands. Especially in Los Angeles, almost no client team is homogenous. And those clients want to be served by people that reflect their own diversity of thought. If companies do not have employees who look like customers, or come from backgrounds similar to client teams, its possible there will be steps missed along the client journey.
Technology companies tend to lead the way in creating cross-functional teams to solve problems. Other sectors can learn from this approach. Adding diversity of thought to those cross-functional teams is an accelerator not only to the numbers of ideas generated, but the quality of solutions.
Newer entrants in the job market, millennials and Gen Z, are often considered critical to the innovation process. To hire and retain those employees requires a strategy that includes diversity. Those generations have a basic expectation of living and working among diverse populations, and will seek those places out.
Diversity of thought
Gender equality is only one chapter of the diversity story. It's often the first foray into a company's exploration of diversity culture building, but there is so much more to consider.
Diversity of thought is where intersectionality comes in. Looking at the holistic make up of teams includes ethnicities, gender, sexual orientation and identification, age and much more.
Competition for talent is fierce in today's economy, across all industries. Fortunately there are diverse populations to tap, opening the aperture of recruitment. One in five Americans is disabled, yet it's a population not fully examined for it's potential. Veterans of the military are trained and experienced in skills most companies would be hard pressed to find in-house. Many companies get excited about hiring young talent, rightfully so. The key is to make sure those young folks are included where it counts, in planning, strategy and innovation teams often relegated to just senior leaders. The other end of the age spectrum includes older, and even retired, talent. Today's professionals are usually still vital near and after retirement. Taking advantage of those wise, experienced and war-tested professionals may not be seen as the "sexy" choice, but it is the smart one.
These populations represent just some of the talent that would increase diversity, innovation, and business results. They need to be seated at the decision-making table.
The stakes are high
Accenture has calculated global gross domestic product could increase as much as $8 Trillion by 2028 if an innovation mindset were increase just 10 percent. To foster innovation, take a look at your diversity efforts. Workplace culture is where it all begins. We already have the secret weapon available. Now we have to use it.