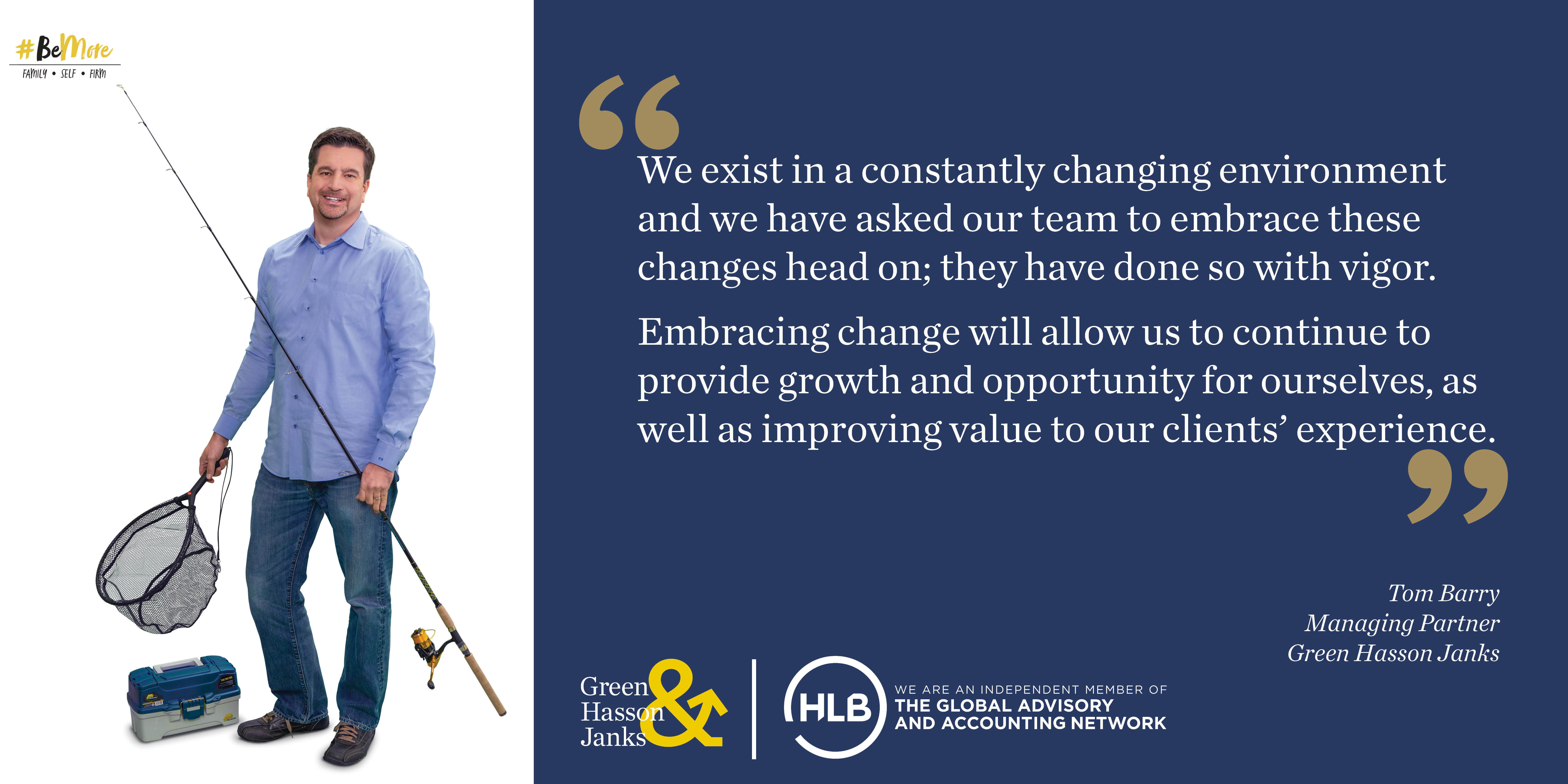 It has been just over one year since I officially took the role of Managing Partner. During this time, I have learned many lessons, faced many challenges and embraced even more opportunities. It has been the most professionally rewarding time of my career and a great year for GHJ. As I reflect back, there are several key ingredients that I am thankful for.
Embracing Change
The first, and most obvious, is the team here at the Firm. From my fellow partners to the newest staff, the trust in my leadership and support for the Firm's future has blown me away. We exist in a constantly changing environment, and we have asked our team to embrace these changes head on; they have done so with vigor. Embracing change will allow us to continue to provide growth and opportunity for ourselves, as well as improving value to our clients' experience. The team here at GHJ never ceases to amaze me in meeting this call. Every member of our team has contributed to our continued evolution and is a vital thread in the fabric of our culture.
Succession Planning
Second, I cannot understate the value of the succession process the firm executed. We began formally planning for the succession process several years ago. The process was done with intention, openness and trust. I had the gift of many great mentors and was given great opportunities for personal and professional growth. I embraced all of it! We lived up to our commitment of growing great people and I was the lucky beneficiary. I could have not been better prepared, and I look daily to pay it forward. I strongly believe the Firm's process is a great framework for any succession plan in any organization and will certainly be our framework as we continue to provide growth opportunities for our people.
#BeMore for the Community
Finally, and what I am most proud of, is the reputation the GHJ has built in the community. In my role as managing partner, I had the great opportunity to meet many clients, business leaders, educators and peers. Every one of these people had great things to say about the Firm, its culture, its people and its legacy. We are truly a one-of-a-kind firm and have been built on a great foundation. We have "something special," and that propels us today and into the future.
A Look Ahead
I look forward to the challenges and opportunities this role brings me this year and into the future. Rapid advancement in technology and evolving client expectations will certainly continue to be disruptive. I am confident that our people and culture will continue to enable us to meet change head on and continue the great legacy of GHJ.
#BEMORE