LOS ANGELES, CA, August 9, 2018… Effective January 1, 2019, GHJ (GHJ) is pleased to announce the promotion of Mari-Anne Kehler and Daniel Rowe to partner. Mari-Anne has over 30 years of experience and leads the Firm's strategy, business development and marketing initiatives. Daniel has been at GHJ since 2014 and is a key member of the Tax Practice. These celebrated promotions are an outcome of the strategic planning process within the firm and reflect the value placed upon the leadership talents of both Mari-Anne and Daniel.
In her new role as partner, Mari-Anne will focus on driving the Firm's future success. She will spearhead the transformation of GHJ's "Client Experience" by advancing the implementation of technology and data strategies to expand future growth. By leveraging the Firm's membership with HLB International, the Firm's global advisory and accounting network, Mari-Anne will help guide expansion of the GHJ's international footprint.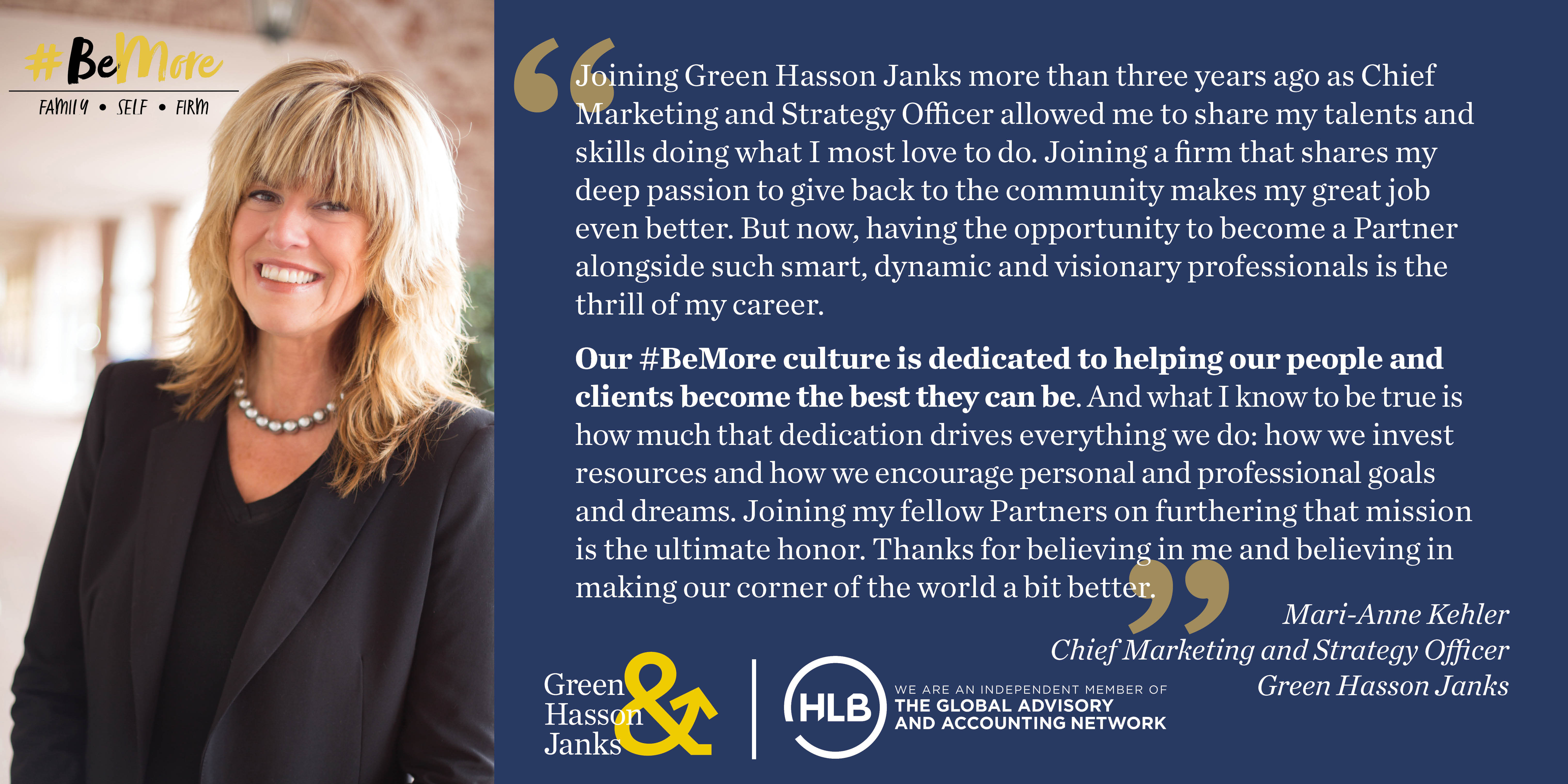 "I could not be happier to see someone that I respect and trust step into the position of partner," Tom Barry, Managing Partner said. "Mari-Anne's followership and leadership within the Firm, passion to inspire others to #BeMore and her drive to achieve results will help propel the Firm well into the future."
Having Daniel move into the role of partner is just one more example of how GHJ is showing its commitment to growing great people and transforming vision and passion into tangible results for its clients and people. Daniel is a recognized tax expert in the area of pass-through entities, including partnerships, S-Corporations and LLCs. His tax compliance and consulting experience is tremendous asset to the Firm, and his passion for serving clients will contribute to GHJ' ongoing growth within its Tax Practice.

"Daniel has deep technical expertise and talent that has helped us provide unparalleled service to our clients," Tom explained. "I am excited to have him step into this role as a partner at the Firm and know he will have meaningful contributions to help the tax practice grow. The entire partner group is proud of his achievements."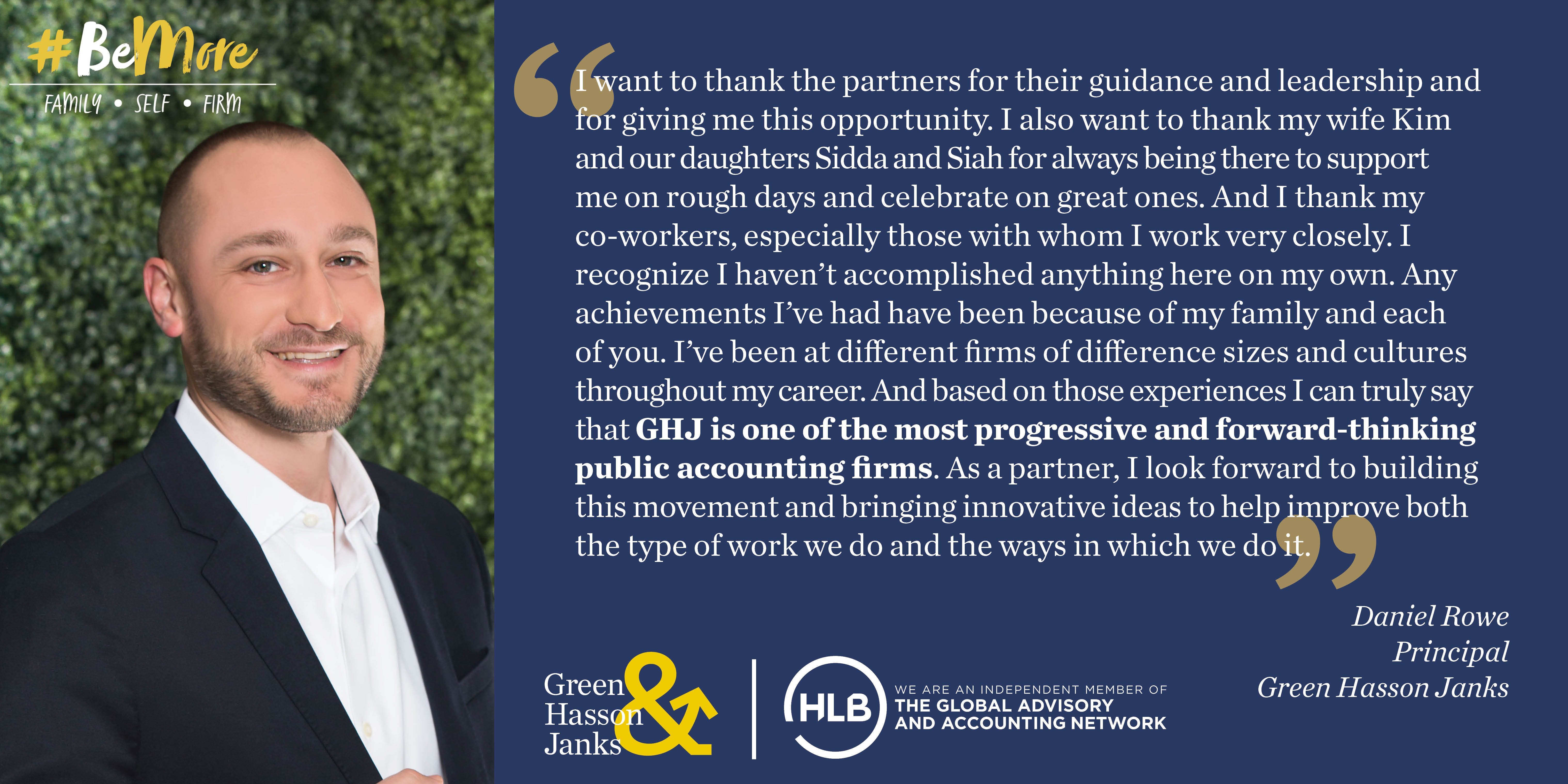 GHJ is committed to developing a diverse group of innovative leaders who are making a positive impact not only with clients but also within the community. The Firm's goal is to support and nurture its leaders to best serve and strategically advise its clients. By leveraging the Firm's core values, they create a framework that fosters and cultivates long-term relationships for future success and growth.

…
About Mari-Anne Kehler
Mari-Anne Kehler leads the Firm's strategy, business development and marketing. She has over 30 years of experience as a high-impact leader who successfully expands business through action by using core skills of strategy development, program execution, measurement and innovation. She has an integrated client-centric and industry approach with experience in professional services, finance, consumer business, entertainment and media.
Prior to joining GHJ, Mari-Anne held sales, marketing and business development leadership roles at top organizations. She served as a national marketing leader for Deloitte Services LP where she held a number of positions on the Marketing and Business Development leadership team, including heading up National Tax marketing, and marketing/business development of the Pacific Southwest region. She was a highly rated trainer of senior-level talent at the globally renowned Deloitte University.
Mari-Anne has been active in the community in the areas of disability awareness and fundraising and in mentoring families and professionals for almost two decades. In addition to serving on numerous nonprofit boards she is also a speaker at universities and conferences on the topic of disabilities: awareness, transition to adulthood and the impact on families. Mari-Anne has been a featured speaker at conferences on topics such as professional services growth, social media and marketing strategy.
About Daniel Rowe
Daniel Rowe, CPA, has more than 15 years of experience and specializes in partnership and S-Corporation taxation and real estate development and investment. He provides technical and strategic advice to partnerships, S-Corporations and their individual owners, including tax advice on restructuring and buy/sell transactions.
Prior to joining GHJ in 2014, Daniel was a tax partner at TSJ Deemer Dana LP in Georgia. Prior to that he was a tax manager at JH Cohn, LLP in New York and an audit senior at Deloitte in Baltimore. In his previous roles, he provided year-round tax planning and guidance for high-net-worth individuals, advised on trust and estate matters, and represented clients in federal, state and local audits.
Daniel has been published in many tax and real estate journals such as The Tax Adviser, The Journal of Property Management, and Commercial Investment Real Estate. He has written and presented continuing education sessions for attorneys and CPAs and frequently delivers tax updates to real estate professionals. He currently serves as an editorial adviser to The Tax Adviser and as a member of the AICPA's Technical Resource Panel for S-Corporations.
Daniel graduated with honors from Towson University with a Bachelor of Science degree in Accounting and is currently pursuing his JD at Loyola Marymount University.
…
About GHJ
Founded in 1953, GHJ is a Los Angeles-based accounting firm that specializes in nonprofit, food and beverage, entertainment and media and health and wellness companies. Recipient of the Los Angeles Chamber of Commerce's 2018 Employee Champion For Life Work Harmony Award and named a "Best Places to Work" by the Los Angeles Business Journal eight times since 2008, GHJ is passionate about helping clients and its people #BeMore by focusing on building thriving businesses and creating a better future.
The firm works as a business advocate for its clients — providing personalized service and building long-term relationships to help position our clients for growth. Also ranked as a top-20 largest accounting firm on the Los Angeles Business Journal's Book of Lists, the firm has 12 partners and approximately 150 staff members that serve over 3,000 clients. The firm is a member of the American Institute of Certified Public Accountants (AICPA), the AICPA Governmental Audit Quality Center (GAQC), the California Society of CPAs and the California Association of Nonprofits (CalNonprofit).