GHJ's Nonprofit Practice serves tax-exempt organizations by providing personalized and tailored services in the areas of assurance and advisory, taxes and business consulting. GHJ has the privilege of providing audit, accounting, tax and consulting services to more than 150 nonprofit clients. For decades, GHJ has worked with both private foundations and public charities and are well versed on current nonprofit benchmarking and governance issues.
Currently, GHJ serves over 60 private foundation clients. In fact, GHJ provides audit and/or tax services to 10 of the top 25 private foundations in Southern California. GHJ pride ourselves on our ability to understand nonprofits' strategic visions and ability to work toward common goals while maintaining the proper level of independence. A number of staff members also serves on the boards of nonprofit organizations, which give them insight to the operational and financial challenges unique to the industry.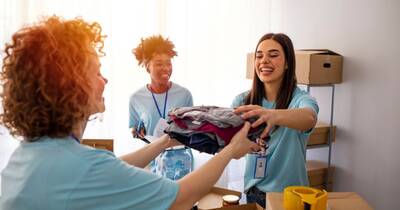 COMMITMENT TO THE COMMUNITY
GHJ supports the community and nonprofit organizations through donations of both time and money. In addition to providing discounted services to nonprofit clients, GHJ also encourages its staff to become involved in community projects to which they donate their own time and expertise.
Additionally, GHJ created GHJ Foundation to be a vehicle for purposeful and proactive giving to GHJ's extended "family" – our community. GHJ Foundation supports the community through financial contributions and volunteerism. GHJ also encourages employees to promote and support the organizations about which they feel passionate. GHJ Foundation raises funds through GHJ contributions, individual contributions of active and retired partners, individual staff members and alumni contributions. With these raised funds, GHJ Foundation provides sponsorships for philanthropic events and matching gifts for employee donations, makes philanthropic contributions, supports community service days, sponsors community volunteering and provides learning and development opportunities for staff through memberships of community organizations.
Along with matching staff donations through GHJ Foundation, GHJ encourages employees to be involved in community projects. Many team members serve on the boards and key committees of nonprofit organizations, and volunteer regularly in the community.
GHJ also hosts community events regularly where partners and employees can perform community service, raise funds and volunteer in the community. GHJ has provided a variety of service projects over the decades, including ways GHJ's professional expertise can accelerate the growth of community organizations.
Previously, GHJ has volunteered as a firm at the LA Food Bank, The People Concern, The Giving Spirit and Goodwill and participated in Union Rescue Mission's 5K/10K. GHJ organizes some of these events to allow its summer interns the opportunity to #BeMore by standing with GHJ to serve the community. In the end, everyone all agrees on one thing – the experience is enriching, enlightening and rewarding.
You can learn more about GHJ's dedication to the community and the GHJ Foundation by clicking here.
PROGRAMS AND RESOURCES
GHJ is also often engaged to speak on topics of interest to the nonprofit sector including financial management and infrastructure, cost allocations, financial statement presentation, key ratio indicators on financial statements and funding trends. To help management and board members earn CPE credits while learning about the latest updates in regulations, legislation and the nonprofit business environment, GHJ offers workshops, webinars, conferences and accounting and tax updates and client-specific nonprofit trainings.
Learn more about GHJ's Nonprofit Tax Services and Nonprofit Audit Services.

Contact Our Nonprofit Practice Leader
Donella Wilson
Partner
Audits, Reviews and Compilations
Benchmarking and Best Practice Models
Board Governance Assessment
Budgets and Cash-flow Projections
Corporate, Pass-through and Individual State and Local Tax Planning and Compliance
Cost Allocation Plans to Maximize Grant Funding
Employee Benefit Plan and Pension Audits
Enterprise Risk Management
Financial Statement Audits
Internal Control Strengthening and Assessment
Merger and Acquisition Consulting
Nonprofit Tax Services: IRS Forms 990, 990-T and 900-PF, State of California Forms 199 and 109, State of California Attorney General Form RRF-1 and Various Other Returns
Proactive Tax Research
Single Audits
Special Projects
Training and Education for Uniform Grant Guidance, Yellow Book and GAAP
Yellow Book Audits
Arts Organizations
Charter Schools
Childcare Programs
Community Service Organizations
Counseling Centers
Environmental Organizations
Family Health Clinics
Foster Family Agencies
Membership Organizations
Mental Health Clinics
Museums
Non-public Schools
Private Foundations
Residential Facilities
Senior Service Organizations
Statewide Associations