A Spirit of Giving. And a Practice of Giving Back.
GHJ Foundation supports our community through financial contributions and volunteerism. GHJ encourages employees to promote and support the organizations about which they feel passionate.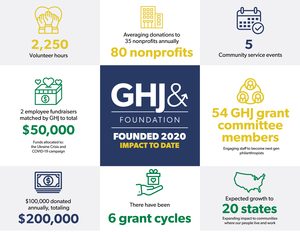 A Passion to Thrive
At GHJ, we help our people and clients pursue their passions, build thriving businesses and create a better future. GHJ Foundation is built so our community, too, can thrive and build a better future for all.
GHJ Foundation raises funds through Firm contributions, individual contributions of active and retired partners, individual staff members and alumni contributions. With these raised funds, GHJ Foundation provides sponsorships for philanthropic events and matching gifts for employee donations, makes philanthropic contributions, supports community service days, sponsors community volunteering and provides learning and development opportunities for staff through memberships of community organizations.
GHJ Foundation Officers
Grants Committee
To effectively identify the community members who are most aligned with GHJ Foundation's giving mission, GHJ employees volunteer to serve on a rotating roster of GHJ Foundation's Grants Committee. Twice annually, those committee members identify, assess, analyze and select their list of grants recipients. It is the belief of GHJ that engaging employee passion for giving, and reinforcing the concepts of giving back and being of service, helps grow great philanthropists into the future.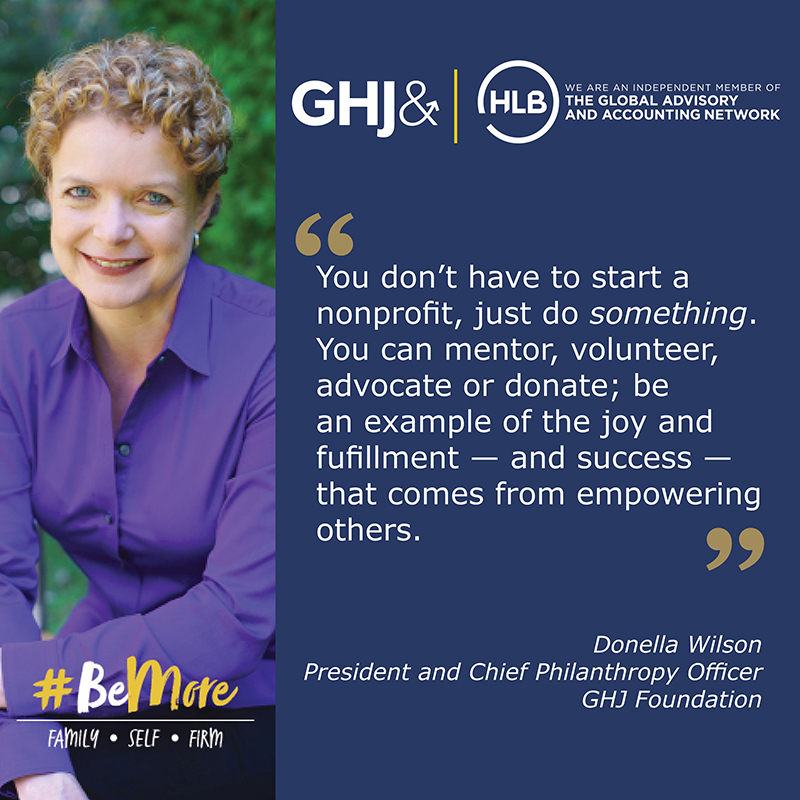 In the Community
Along with matching staff donations through GHJ Foundation, GHJ encourages employees to be involved in community projects. Many team members serve on the boards and key committees of nonprofit organizations, and volunteer regularly in the community.
GHJ hosts community events regularly where partners and employees can perform community service, raise funds and volunteer in the community. The Firm has provided a variety of service projects over the decades, including ways GHJ's professional expertise can accelerate the growth of community organizations.