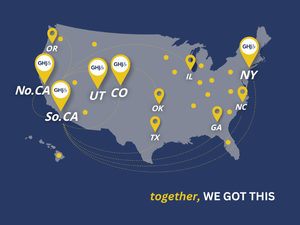 Meeting Clients Where They Are
With offices located in Southern and Northern California, market hubs in Utah, Colorado and New York and practice leaders and team members across the U.S., GHJ has a national footprint and a global reach.
We believe in meeting clients where they are to help them #BeMore every day. GHJ works as your business advocate by providing personalized services and building long-term relationships to help position our clients for the future.
Additionally, through our affiliation with global advisory and accounting network HLB, GHJ can leverage resources from member firms around the world and are able to serve multi-location clients in a timely and efficient manner.
#BeMore
At GHJ, we believe every day is a chance to #BeMore. Not do more. Not work more. Instead, we encourage one another to be the best we can be, and enjoy life to the fullest. With our commitment to anytime/anywhere work, our support of flexible work environments, and our passion for health and wellness, GHJ wants people who live their best lives.
Family, friends, and personal passions all make us who we are. The work we do at GHJ is an extension of that. Having a rich, full, balanced life allows us to bring our best to our clients.
GHJ is made up of people who are athletes, parents, artists, yogis, travel-enthusiasts, community volunteers and more! We believe this makes us a firm that can #BeMore. And that's the firm we want to be.