GHJ's Client Accounting and Advisory Services (CAAS) Practice provides essential back-office finance and accounting solutions. These services span from assistance with financial reporting, budget planning or high-level strategic advice for small to medium-sized businesses in the food and beverage, media and advertising, nonprofit and real estate industries to enhance day-to-day operations. CAAS also offers services for GHJ's Transaction Advisory Services Practice and International Tax Practice clients.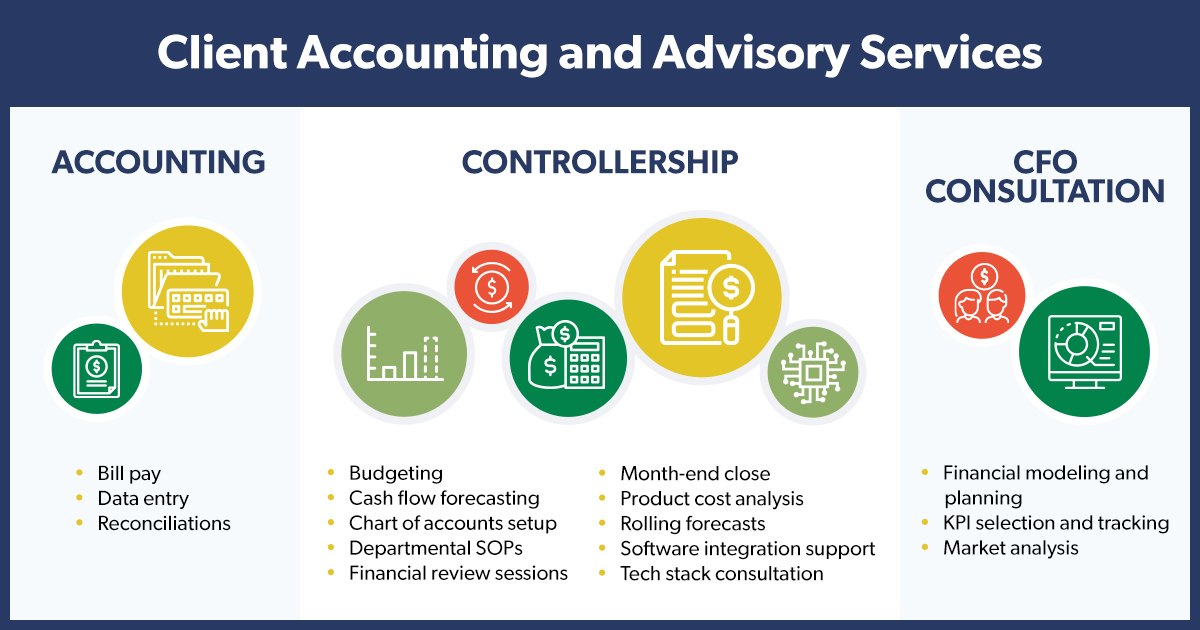 HOW DOES CAAS BENEFIT YOUR BUSINESS?
CAAS helps businesses fill any gaps in their finance function. With high-touch, personalized service options, businesses can expect a tailored package of services to level up their business.
Budgeting, month-end closing and review sessions to ensure all financial reporting is up to date
Data entry, reconciliations and bill pay to ensure books are kept up to date
Market analysis, KPI tracking and modeling to ensure the company is on track to achieve desired financial goals
A PROVEN SOLUTION FOR HIGH-GROWTH TEAMS

GHJ's team of experts can elevate any back office, whether the company is in need of data processing, cash flow forecasting, financial modeling or a combination of services. CAAS can collaborate with a company's finance department or manage the entire finance function.
Working with GHJ's CAAS professionals allows a company to support its key accounting functions on a temporary basis while in-between personal or long-term if the company is not ready to fill the role internally.
Clients can expect complete, accurate and timely management reports as well as guidance on accounting and finance best practices.
With decades of collective experience, they can handle a variety of finance functions and are an efficient solution for startups and other high-growth companies in need of finance support.
Accounting
Break-even Analysis
Budgets and Forecasts
Cash Flow Analysis
Chart of Accounts set-up
Contract CFO Services
Controller Services
Establishing Departmental Standard Operating Procedures
Excise Tax Compliance
Financial Models
Key Performance Indicator Selection and Tracking
Month-End Close
Product Cost Analysis
Reconciliations
Tax Planning
Contact our Client Accounting and Advisory Services Practice Leader