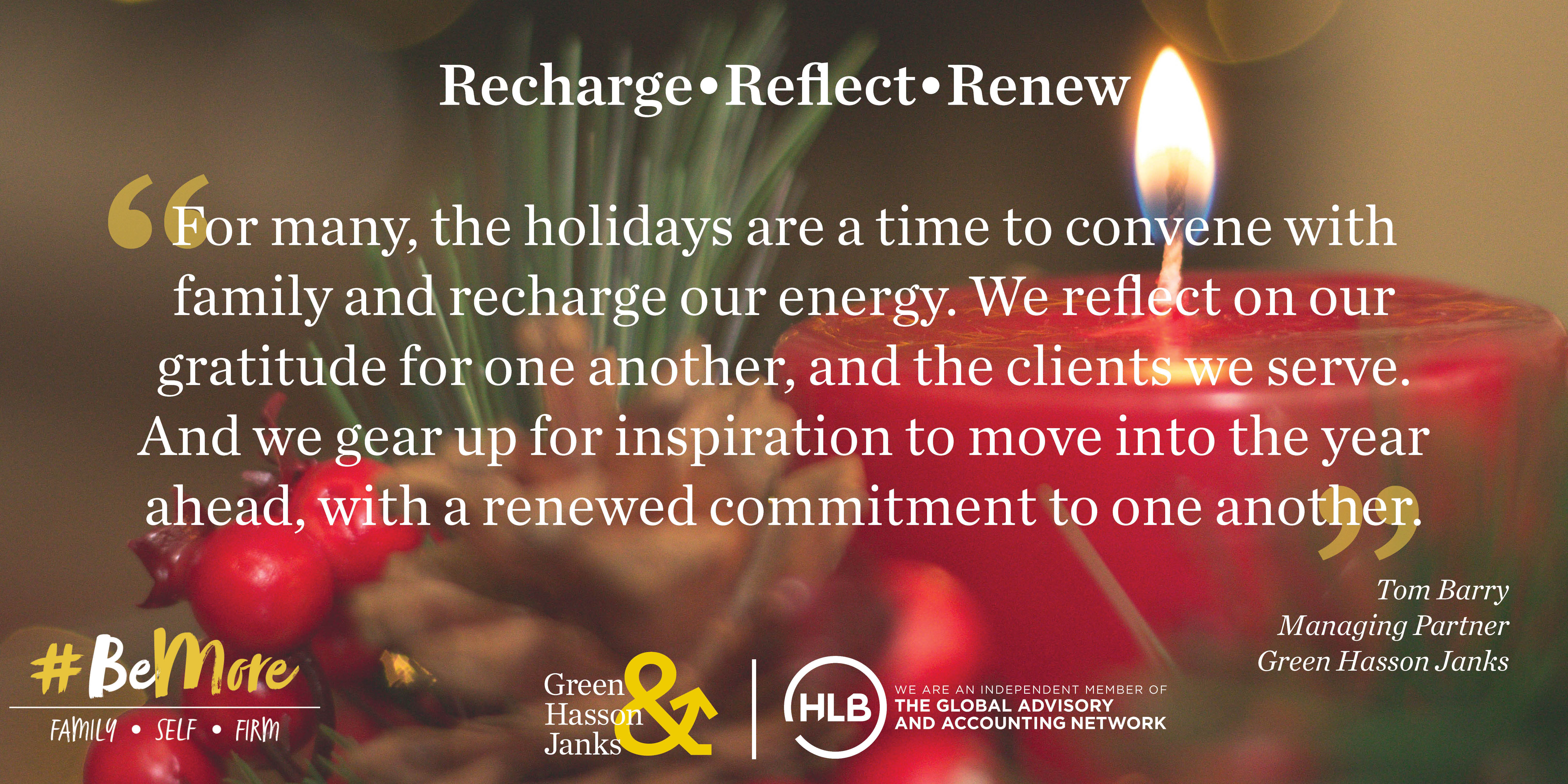 For many, the holidays are a time to convene with family and recharge our energy. We reflect on our gratitude for one another, and the clients we serve. And we gear up for inspiration to move into the year ahead, with a renewed commitment to one another.
With this in mind, GHJ has provided our people with a week off between Christmas and New Year's Day for the last five years. Family is one of the core tenets of the GHJ #BeMore philosophy, and we hope this holiday break will give our GHJ family time for the "life" part of work/life balance.
Of course, "family" means different things to each person – whether it's the actual biological family we grow up with, friends, our community, neighbors, place of worship – we gain strength from our ability to share with those we care about.
The year-end break gives us a chance to pause and reflect as we go into a new year. We can look at what we have accomplished in 2018. Personally, it was a very big year for me as I transitioned into the Managing Partner role. I'm learning new things, and meeting with different colleagues and clients every day. It was a definite year of growth. As a firm, we expanded into exciting practice areas with highly qualified new team members to ensure we are serving our client needs as they also prepare for future growth. As part of our reflection and goal setting, we celebrate and support the new professionals and leaders as we go into 2019.
Our employees come from diverse backgrounds and we take this opportunity to celebrate many of their wonderful holiday traditions across the firm. Time off is a gift to our employees, but it is also positive for the firm. Studies have shown that it not only supports our #BeMore philosophy, it increases productivity, improves firm culture, leads to better health and reduces turnover. Busy season will soon be upon us, and some resting, relaxation and family time over the holidays will help us prepare to be our best.
On behalf of myself and the partners this holiday season, we want to thank our staff and our clients for a great 2018. We will come back from our break energized for a successful 2019.