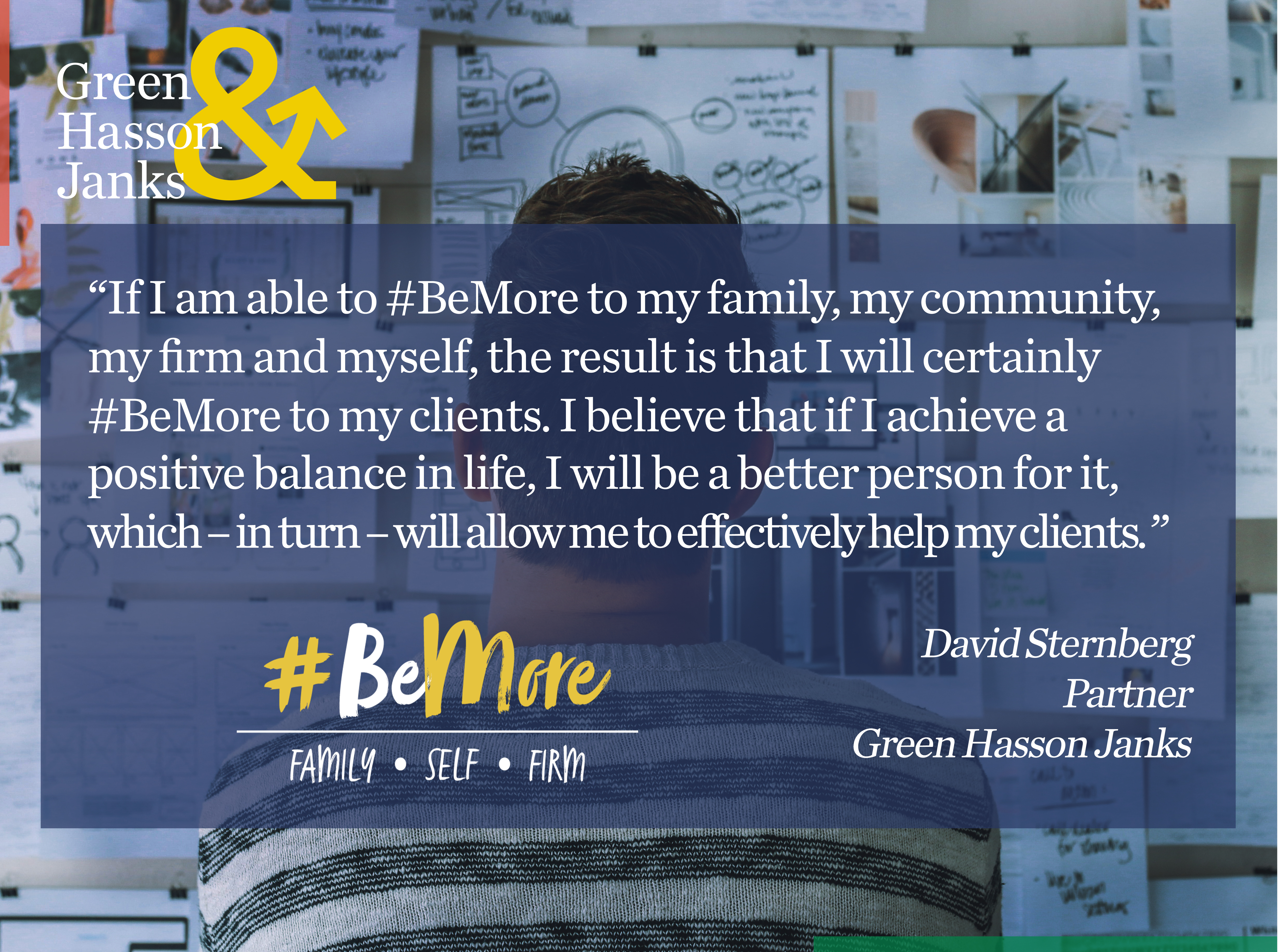 There is traditionally a negative stigma about the demanding work environment of public accounting and consulting. If the perception is based on the long hours and deadlines, then I understand the associated disapproval. But if viewed through the lens of making a difference and helping clients succeed, then the culture, for me, is more about being more! Reflecting on the past Busy Season, I would like to share some philosophies that have gotten me through the season and will prepare me for the oncoming peak season.

Flexible Work Works
I became a Partner at the age of 34, and I could not have done so without the support from my wife and my then three-month bundle of joy, Sophie. Sophie did a great job of being my 5 a.m. alarm clock during this past Busy Season. GHJ has also been a great support with flexible work schedules. I am able to tailor days based on client needs as well as family and personal commitments. GHJ's flex work environment allows for the nimbleness needed in my world of constant change. Technology allows me to stay connected in real-time; it also allows me to keep my commitments to my family and firm. If I am able to #BeMore to my family, my community, my firm and myself, the result is that I will certainly #BeMore to my clients. I believe that if I achieve a positive balance in life, I will be a better person for it, which – in turn – will allow me to effectively help my clients. GHJ Managing Partner Tom Barry lives and breathes our #BeMore philosophy and has shaped our firm culture. For me, #BeMore equals "positive balance." If I am more to my family, myself, my clients, my firm and my community, this translates into happiness, fulfilment and the positive energy needed for Busy Season.
Leverage
As performance evaluations are underway at GHJ, it is a reminder of what I believe is the one of the keys to success: leverage. Effective leveraging allows us to focus on delivering the highest level of value to our clients. When we are able to leverage the skills of others, it gives our talent the opportunity to develop and progress.
Find the Right Mentor
We are all faced with different obstacles and needs at work and home, and my advice is to find a mentor that has "been there and done that." I find it important to build a relationship with a mentor that gets the mentee. I have the privilege of coaching two female managers at GHJ. One is a recent working mom, and the other will be going on maternity leave for the first time soon. Drawing on my personal experiences in being a working dad has assisted me in effectively coaching them in a meaningful way.
I carry these philosophies with me on the heels of the next Busy Season and challenge you to think of ways you can be more for your family and firm.