A challenge that many firms face, regardless of their size, is capacity. As a growing midsize advisory and accounting firm, GHJ always strives to find ways to better service clients. Further, as a partner and the leader of GHJ's Audit and Assurance Practice, I am always looking for creative solutions to be more efficient and create bandwidth for my team. Sometimes, the answer is clear: adopt a new technology or streamline a procedure. Other times, innovation is a series of trial and error, retooling and refinement.
CONTINUOUS INNOVATION
As part of our innovation process, GHJ undergoes an annual process referred to as reengineering before the beginning of audit season. During this time, the Audit and Assurance Practice discusses ways to make the audit process more effective and efficient.
Leading into 2020, the pain points were nothing new. The team needed more capacity and resources to service clients in a timely manner. As 2020 progressed, we faced additional challenges related to COVID-19, but fortunately we already had a head start using technology to conduct remote audits and were able to move to fully remote fairly seamlessly as we got further into our audit busy season. As resource shortages remained the biggest change for GHJ's team and as remote work became standard, GHJ sought a solution to solve our capacity issues.
OPEN MINDS LEAD TO CREATIVE SOLUTIONS
When brainstorming capacity solutions, the team remained open to all possibilities. Ultimately, we decided to tap into HLB (an international accounting network that GHJ is a member of). Through GHJ's affiliation, we already had established working relationships with other member firms, many of which are located outside of the U.S. The network helped connect us with Kshitij Patel and Druman Patel at Manubhai & Shah, LLP ─ a firm in India that could provide resources to us during the auditing process.
ONBOARDING AND BEST PRACTICES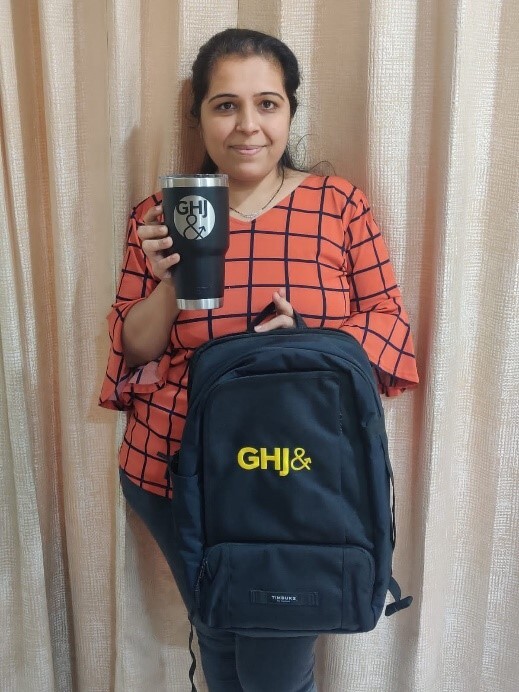 Integrating the India team required hours of planning and training. It also required flexibility and understanding from our audit team. Similar to when working with our local team members, we needed to learn the best ways to communicate and collaborate with our India team to create the best outcomes for our clients.
Initial bumps in the road and challenges have been the best teachers in this ongoing partnership, leading us to develop several best practices.
Create a strategic plan. The planning stage is key to the success of any partnership. While there are things one cannot predict, having a strategy provides a big picture outlook on the problem that needs to be solved.
Build the right team. When engaging an outside partner, the internal team is vital to the success of the partnership. Designate a team liaison to serve as a point of contact. This person should schedule a daily touch base with the remote team.
Develop practices to manage different time zones. At the time I am writing this blog, it is 12:30 p.m. in Los Angeles and 2 a.m. in Mumbai, India. Even in a flexible work environment like at GHJ, it still might be too early to "hop on a call." Phrases like "close of business" take on a new meaning when there is a 13-hour time difference. It is important to take these things into consideration when scheduling meetings, providing status updates and creating deadlines.
Recognize culture differences. The U.S. and India are prototypes of Western and Eastern cultures. Thus, it is important to understand how the different values systems present in the workplace.

"I had an opportunity to be part of this initiative and set up teams beyond borders," explained GHJ Audit Manager Vairagya Jhawar. "This helped me understand the cultural and value gaps while trying to achieve the same objectives. Asia is a more price-sensitive market, whereas the U.S. is a more value-sensitive market."
Create robust training materials. The key to successfully onboarding any new team member is training. The development of training materials should be done in the planning process. It should provide detailed information about policies, procedures and contact information. Be open to revisions and improvements.
Provide opportunities for growth. During one engagement, GHJ had a gap at the associate level. A member from the India team stepped up to help complete the audit. It is important to grow and develop all members of a team. This can be done by providing opportunities from someone to stretch, learn and develop new skills. With the integration of an outside team, there are also opportunities to develop associates or seniors as managers and project leaders.

"When presented with the opportunity to work with the India team, I was thrilled," said GHJ Audit Senior Associate Harita Ravikumar. "The experience has helped me build my confidence and not be afraid to voice new ideas. The ability to critically think and problem solve when we dealt with bottlenecks throughout the process was a great learning experience! Being part of this initiative has helped me hone my organization and management skills apart from the day-to-day audit functions."
A UNIFIED TEAM
In addition to the best practices stated above, one thing has helped our partnership succeed above all else: unity. Despite the geographic barriers and time difference, the India team is a part of GHJ. Fostering a sense of belonging has improved workflow and the outcomes created for clients.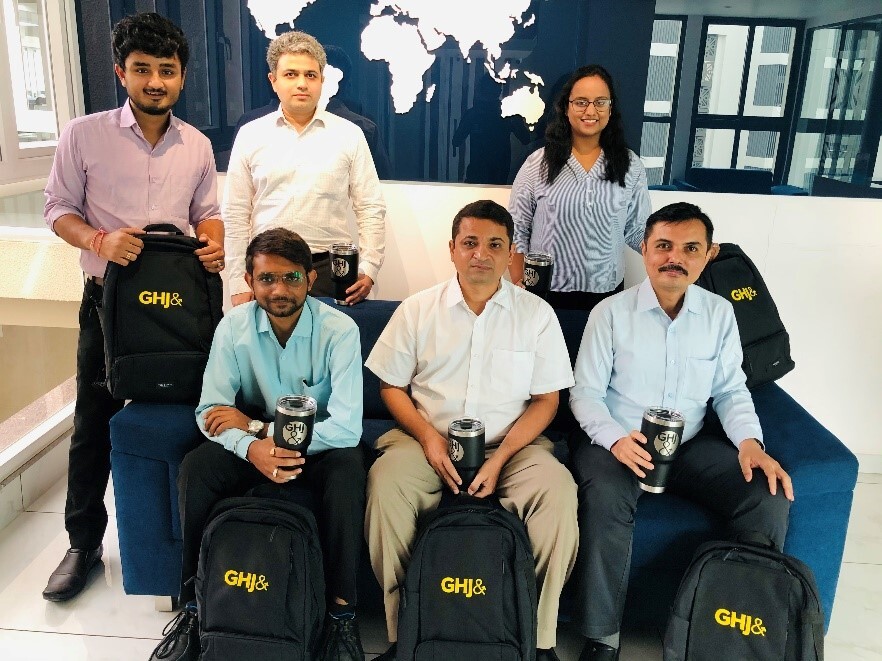 GHJ has always been made up of talented people from diverse backgrounds. Originally from India, I was first attracted to the firm because of GHJ's commitment to diversity, equity and inclusion (DEI). GHJ truly believes that different backgrounds offer different perspectives, which fosters diversity of thought and, ultimately, better results. Our work with our India team is a reflection of that philosophy.
In July 2021, I went to visit our team in India. I enjoyed meeting the team and learning about not only their career aspirations but also their families and hobbies. Understanding personal details about your team helps you support them as they work to #BeMore for themselves and their clients.
"Working with experienced GHJ professionals, we have imbibed innovative ideas, improved our working style and thought process in a broader way," said GHJ's India team. "GHJ has a clear vision on and bring out the best in people who can work together to fulfil it."
Through this experience, I have learned that while we cannot make more time, there are creative solutions that can provide more capacity for our teams. More capacity leads to expansion of services, development of talent and a more balanced workload. In my experience, seeking solutions (near and far) have led to great results.