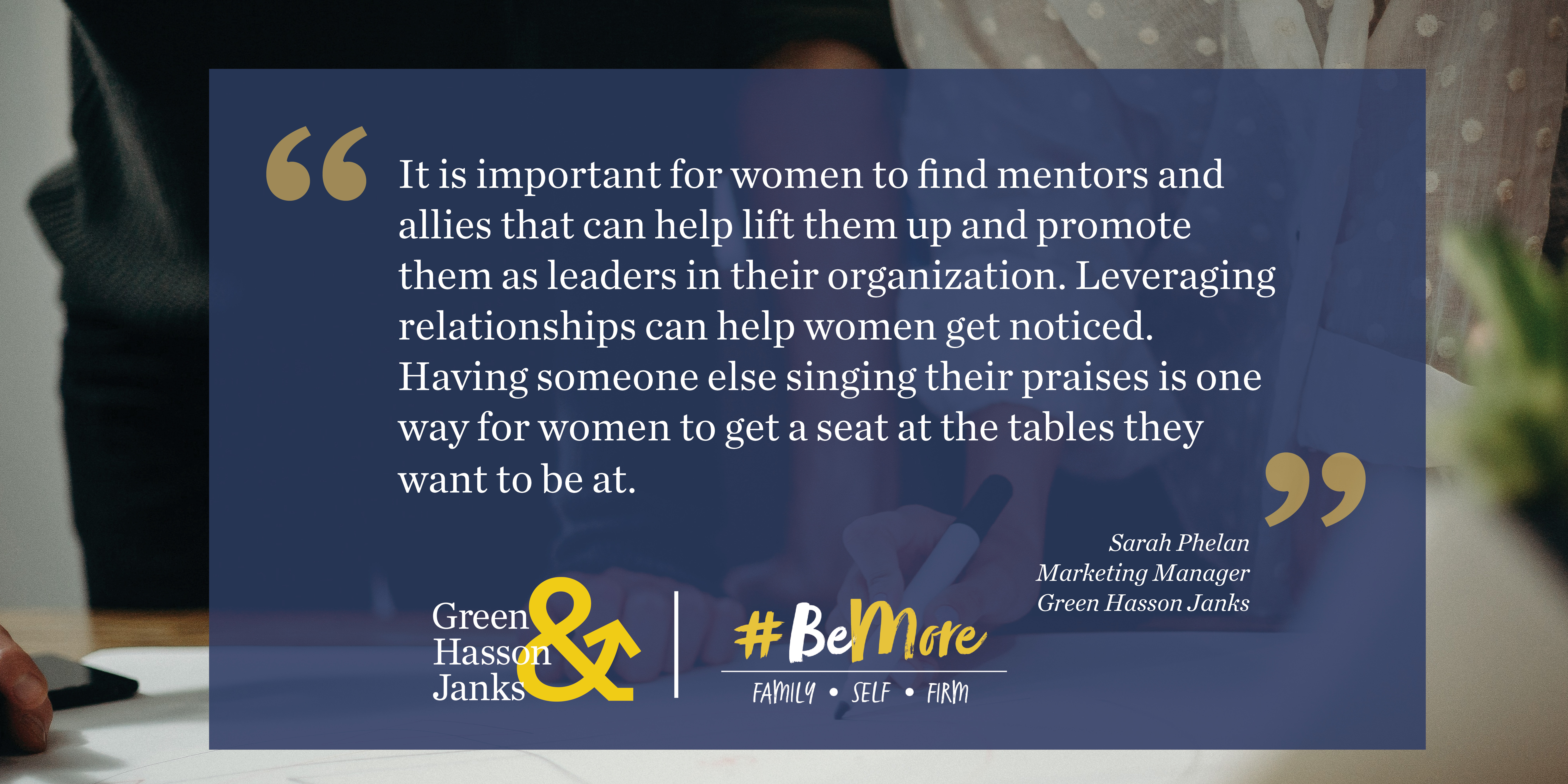 It is a unique time for women in business. More than ever before, women are being heard and recognized as valuable members of the work force. According to Grant Thornton's 2019 Women in Business Report, women hold 29 percent of senior management roles and 87 percent of global businesses have at least one woman in a senior management role. While these are some of the highest figures recorded in history, these numbers are far from perfect, and women still need to make sure they are not only getting a seat at the table but also leading the conversation.
On Nov. 6, GHJ hosted its final Women's Empowerment Event of 2019, titled "If There's No Seat at the Table, Bring Your Own Chair." The panel was moderated by GHJ Partner and Chief Marketing and Strategy Officer Mari-Anne Kehler with guest speakers Sue Chen (Founder and CEO of NOVA Medical Products), Debra Langford (VP, Chief Strategy Officer at The Alliance at The USC Race and Equity Center) and Katie O'Reilly(Executive Director, Business and Program Development at the Milken Institute). This incredible group of women came together to share their experience and expertise with attendees on how to get their voices heard and make sure they were being included in the conversations, projects and meetings they wanted to be a part of.


Speak Up
A big part of the discussion focused on how to be heard. Panelists shared stories about how they pushed for their own seats at tables and the importance of speaking up, especially when one has valuable insights they can share.
"If people do not hear your voice, people have trouble seeing the value you bring," Kehler explained.
Past research from BYU and Princeton has shown that men dominate 75 percent of the conversation in mixed groups. While it is hopeful that this number is changing for more equal footing, Kehler's point remains valid. Women need to not take a passive role in meetings. Speaking up and having their voice heard helps women be seen for the value they bring to any projects. Doing the research before meetings and coming prepared to contribute is a key part of this strategy as the panel did warn not to fall into the trap of speaking for the sake of just saying something. Making sure their contributions add value is key for any female leader.



Find Allies
Finding allies is another strategy the panel recommended when it came to having their voices heard.
"An ally is someone who is proactive, rather than indifferent in showing up for you," Chen pointed out.
It is important for women to find mentors and allies that can help lift them up and promote them as leaders in their organization. Leveraging relationships can help women get noticed. Having someone else singing their praises is one way for women to get a seat at the tables they want to be at. It is important for women to build and nurture these relationships as they grow in their careers.
The group also emphasized the importance of being an ally to others, whoever they are.
"Be an ally to someone who doesn't look like you," Langford pushed.
By supporting others at work, no matter their gender, race, age or level, can help create allies throughout a company. It is important to create a network of allies to gain political capital. It is not just about raising oneself up, but bringing others with them as well.
"The more political capital you have, the more you have to help others," Kehler explained.



Fight for a Seat
Justice Ruth Bader Ginsburg has been known to point out that there will be enough women on the Supreme Court when all the seats are taken by women. Whether it is the Supreme Court, a board room or a committee, women should never feel they are competing for a token spot. They are competing for a spot period.
"Don't buy the myth that is you are a woman, you are competing with the other women for that one seat," O'Reilly stressed. "Compete with the men."
The panel went on to include minorities as well saying that individuals should not approach groups believing they need to compete for one seat that fits with a portion of their identity. Individuals come with many different aspects to their identity and should not allow other to decide when they do not fit the topics being discussed.



Bringing it all Together
Speaking up, finding allies and fighting for a seat at the table are all key actions women need to take as they work for a bigger voice in the business world. And if that fails, Q&A Moderator GHJ Principal Anita Wu said it best: "If you see a meeting that you want to be invited to, ask."
Sometimes leaders can fail to recognize that someone has a desire to be part of the conversation. By speaking up and putting themselves out there, women can make sure they are not overlooked. After all, "if there's no seat at the table, bring your own chair."