Originally published in Target Marketing Magazine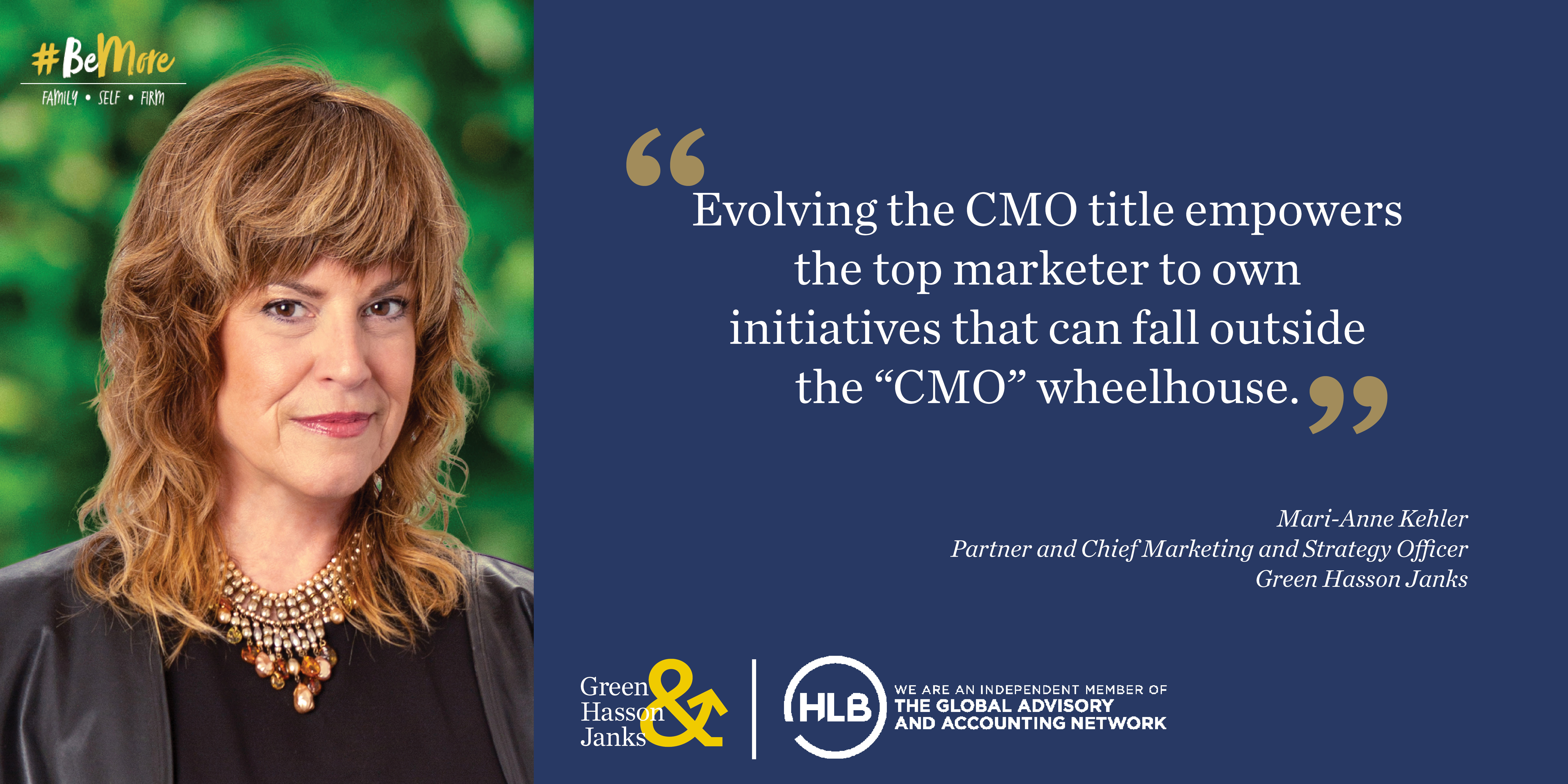 The title of CMO is at once desirable and perhaps outdated at some organizations, according to marketers putting a great deal of thought into the role's evolution.
Top marketers at CallRail, a provider of tracking and analytics for phone calls and web forms, and at GHJ, an accounting, tax and consulting firm, provided comments to Target Marketing.
Mary Pat Donnellon, CRO at CallRail, answered questions extensively and Mari-Anne Kehler, Partner, Chief Marketing and Strategy Officer for GHJ, provided the background.
Kehler says organizations such as Uber and Johnson & Johnson morphed the CMO role or left it empty, even as the top marketer's responsibilities grow, exponentially.

"Eliminating or changing the CMO title enables the top marketer to take on important, cross-functional growth initiatives that typically would not fall in the CMO's wheelhouse," Kehler opines.



She says now, there are three main types of CMO roles at companies:
those whose focus is downstream, spurring sales through marketing communications;
those responsible for designing and implementing strategy; and
the smallest percentage are those who are in enterprise-wide P&L role that marry both commercialization and strategy. That latter role has tremendous power in the decision-making process and is where many marketing leaders want to be.
Donnellon is quite familiar with the changing role of the CMO, because that's her former title.


Target Marketing: How has the role of the CMO changed throughout your career?
MPD: The biggest shift in the role of the CMO during my career has been the move from focusing mainly on acquiring new customers, to focusing on the full buyer and customer lifecycle. CMOs today are responsible for creating amazing experiences at every stage of this journey, and for creating customers who are advocates and evangelists for the brand.
For marketers, these amazing experiences need to be warm and personalized, but also need to be architected at-scale, and will largely be digital and automated. The CMO is the critical point for making this happen.
Another major change is the availability of data to drive marketing. In my early days, marketing was largely an art, today it is much more of a science. As marketers, we have access to more data than ever thought possible, and we need to leverage this to ensure we are engaging with our audiences in the way they want and respond to. We also need to be increasingly respectful and conscientious with this data, or risk backlash from our customers.
TM: What did your transition from CMO to CRO at CallRail entail? What contributed to your success during this transition?
MPD: I joined CallRail to lead marketing, but added sales to my portfolio shortly thereafter, and became Chief Revenue Officer. At CallRail, having marketing and sales together in one organization makes total sense. We are a high-velocity business with a very short sales cycle. Our ability to generate and close mass quantities of leads depends on marketing and sales being a truly operationally excellent revenue engine. I have had the opportunity to build this at CallRail and ensure we have the structure and alignment needed to make this happen fast. That said, all organizations will benefit from investing in marketing and sales alignment, whether they have the same leader or not.
TM: What have you found to be the most effective strategy for driving revenue results as a CMO?
MPD: As a marketer, I naturally see the CMO as the hub that brings together all aspects of the business to drive results. This includes a strong partnership with the product team to deeply understand product roadmap and strategy; with the finance team on pricing, packaging, and performance metrics; with sales and customer experience on front-line strategies and communication; and with the marketing team to create brand experiences and drive demand that converts. To drive revenue results, the CMO needs to pull all of this together.
In leading marketing teams, I have found success in holding marketing accountable for revenue performance, in addition to "top-of-funnel" metrics like brand awareness or marketing qualified leads. Revenue-driven marketing teams need to not only own top-of-funnel metrics, but also how this activity converts through the buyer and customer journey into real revenue. This is uncommon for marketing teams, but I have found it to be very effective in building a deeper relationship with sales and customer teams, and for driving performance and growth.
TM: You place a large emphasis on connecting marketing and sales to drive overall business results. Is this something all CMOs should prioritize to meet changing expectations at their companies?
MPD: It's a proven fact that marketing and sales alignment drives better results. Sales cannot be successful without marketing and marketing cannot be successful without sales. I have tried to build this alignment by having marketers be accountable for revenue performance, not just top-of- funnel metrics, which means they have to partner more closely with sales to be successful. When the sales team sees that marketing truly understands the business, they are more willing to partner and share the valuable front-line learnings that will help marketing create better strategies to more deeply engage prospects and customers. It's a virtuous cycle and something I do think all CMOs should prioritize.
TM: In your opinion, what does success look like as a CMO?
MPD: A successful CMO focuses on more than just the numbers, and understands that by doing what's right for customers, revenue will come. Architecting an amazing customer experience by listening to customers, aligning with all the teams involved in this process, and having goals and measurement in place to understand the impact of marketing efforts on customers and the business overall, are all pieces of the puzzle that need to come together
Beyond this, success as a CMO means working across functional organizations to create a stronger, more effective company culture. It also means having deep focus on developing marketing team members, and building a team culture where all participants can grow and thrive.