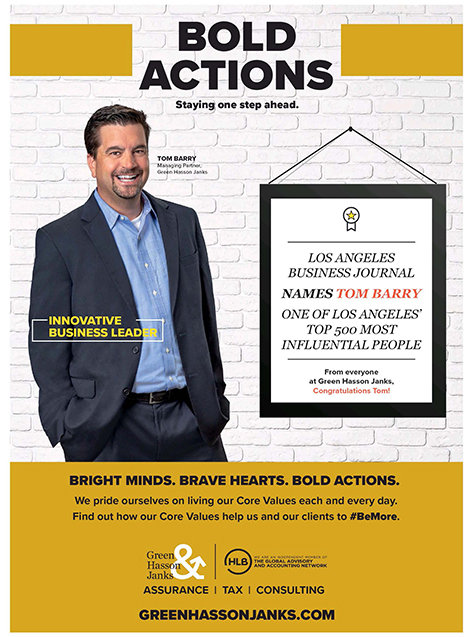 LOS ANGELES, CA (May 27, 2020) GHJ Managing Partner Tom Barry was named one of Los Angeles Business Journal's 500 most influential people in business for the third year in a row. For their LA500 issue, the Los Angeles Business Journal annually profiles LA's established leaders and rising stars who have made a big impact on business through their vision, energy and resourcefulness.
"It is a honor to be recognized by the Los Angeles Business Journal alongside so many influential business leaders in the Los Angeles area," Barry said. "I am proud and humbled to lead a talented team focused on collaboration and helping others to #BeMore."
As a leader in his field, Barry believes in building a successful firm by embracing changes head on, in a constantly changing environment. He navigates through challenges and evolving client expectations by leveraging technology to improve the client experience. Barry's role as the firm's managing partner is a combination of entrepreneur, partner, consultant, mentor and business advisor.
The GHJ Business Disruption toolkit, was launched in wake of the COVID-19 pandemic to better assist clients seeking guidance on how to navigate the Coronavirus Aid, Relief and Economic Security Act (CARES Act) and other client needs due to COVID-19's disruption of the marketplace. Barry's efforts to provide proactive outreach and to help clients determine the best solutions to their problems has enabled the firm to step forward and take bold action at a critical time. Having established an "anywhere/anytime" firm well before the pandemic enabled GHJ to transition to serve clients with seamless responsiveness.
It has been nearly two years and a half since Barry officially took the role of managing partner. Through his hard work and dedication and encouraging individuals to #BeMore for themselves and their clients, Barry was able to begin a legacy and create a brand that attracts top clients and achieves growth that exceeds industry averages.
"If we continue to #BeMore by leading with BRIGHT MINDS, BRAVE HEARTS and BOLD ACTIONS then we will have the greatest opportunity for success" Barry explained. "These three core values of the #BeMore culture are how GHJ is evolving into a next generation firm."
Driven by this philosophy, GHJ upholds a flexible, entrepreneurial environment where employees can work creatively and collectively to help GHJ's clients #BeMore while still achieving their personal and professional goals. The firm's success is driven by retaining the best, diverse talent who lead with integrity and investing in people and technology to always stay one step ahead. This commitment deepens firm expertise and fuels sustainable growth.
Click here to view the full LA500 list in the Los Angeles Business Journal.
…
About Tom Barry
Tom Barry, CPA, believes in building a successful life one day at a time. He does that by leveraging technology to create a flexible schedule that allows him to be a father and husband in addition to fully committing to his career at GHJ, where he has worked since 1997. Tom's role as Managing Partner of GHJ is a combination of entrepreneur, partner, consultant, coach and business advisor.
Additionally, with more than 25 years of public accounting experience, Tom provides audit and accounting, tax and general business advisory services to clients in a variety of industries. Tom is an active member of YPO - Santa Monica Bay and is currently Treasurer and a member of the Executive Committee. He is also Chairman of the Accounting Advisory Board for Loyola Marymount University.
When Tom is not working, you will find spending time with his wife and four children. He is an avid fisherman and sports fan. He has launched the Firm's concept of #BeMore, which encourages members of the firm to live their best lives, professionally and personally.
Due to his leadership both at GHJ and the community at large, Tom was recognized in 2018 and 2019 by the Los Angeles Business Journal as one of LA's 500 most influential people in business.
Tom is a graduate of Villanova University where he received a Bachelor of Science Degree in Accounting. He has received a master's in Business Administration from Pepperdine University. He is a member of the American Institute of Certified Public Accountants and the California Society of CPAs and serves on the Loyola Marymount University Accounting Advisory Board
…
About GHJ
Founded in 1953, GHJ is a Los Angeles-based accounting firm that specializes in nonprofit, food and beverage, entertainment and media and health and wellness companies. Previous recipient of the Los Angeles Chamber of Commerce Employee Champion For Life Work Harmony Award and named a "Best Places to Work" by the Los Angeles Business Journal eight times since 2008, GHJ is passionate about helping clients and its people #BeMore by focusing on building thriving businesses and creating a better future.
The Firm works as a business advocate for its clients — providing personalized service and building long-term relationships to help position our clients for growth. Through its affiliation with HLB International, a global network of independent professional accounting firms and business advisers, the Firm is able to partner with other top firms across major cities throughout the U.S. and the world. GHJ' audit, tax and advisory teams leverage the HLB network to better serve its clients and give clients access to member firms in over 158 countries across the globe.
Also ranked as a top-20 largest accounting firm on the Los Angeles Business Journal's Book of Lists, the firm has 14 partners and more than 160 staff members that serve over 3,000 clients. The firm is a member of the American Institute of Certified Public Accountants (AICPA), the AICPA Governmental Audit Quality Center (GAQC), the California Society of CPAs and the California Association of Nonprofits (CalNonprofit).
###