LOS ANGELES, CA (November 20, 2019) – GHJ (GHJ) Managing Partner Tom Barry and Partner Anant Patel were recognized by the Los Angeles Business Journal as top "40 in their 40s: Accounting & Financial Services Professionals."
"It is a personal honor to be recognized by the Los Angeles Business Journal alongside Anant and many dynamic business leaders in the Los Angeles area," Barry said. "I am proud to lead an immensely talented and diverse firm focused on helping our clients and employees #BeMore."
Through their leadership on GHJ's Executive Committee and dedication to growing the Firm's service lines, both Barry and Patel have helped grow and shape not only the Firm's future, but the industry as a whole. With innovation and technological breakthroughs coming at a fast pace in the ever-evolving accounting industry, Barry and Patel have expanded the firm's service lines to better serve its people.
"I am extremely honored to be recognized by the LABJ," Patel said. "Receiving an accolade that celebrates significant milestones within the accounting industry is extremely motivating."
Published in the Nov. 18, 2019 issue, this is the paper's first year presenting the "40 in their 40s" awards which recognizes the most outstanding 40 professionals in their 40s who work in the accounting and financial sectors. Nominated individuals are reviewed by a selection committee that is looking for strong leadership, mentorship and professional achievements both inside and outside of their firm.

About Tom Barry, Managing Partner

Tom Barry knows the importance of not only being a part of the discussion but to be leading it and shaping the accounting profession. His contributions to the accounting industry and push to create dialog on its evolution and changing approach to recruiting make him a great addition to LABJ's 40 in 40s list.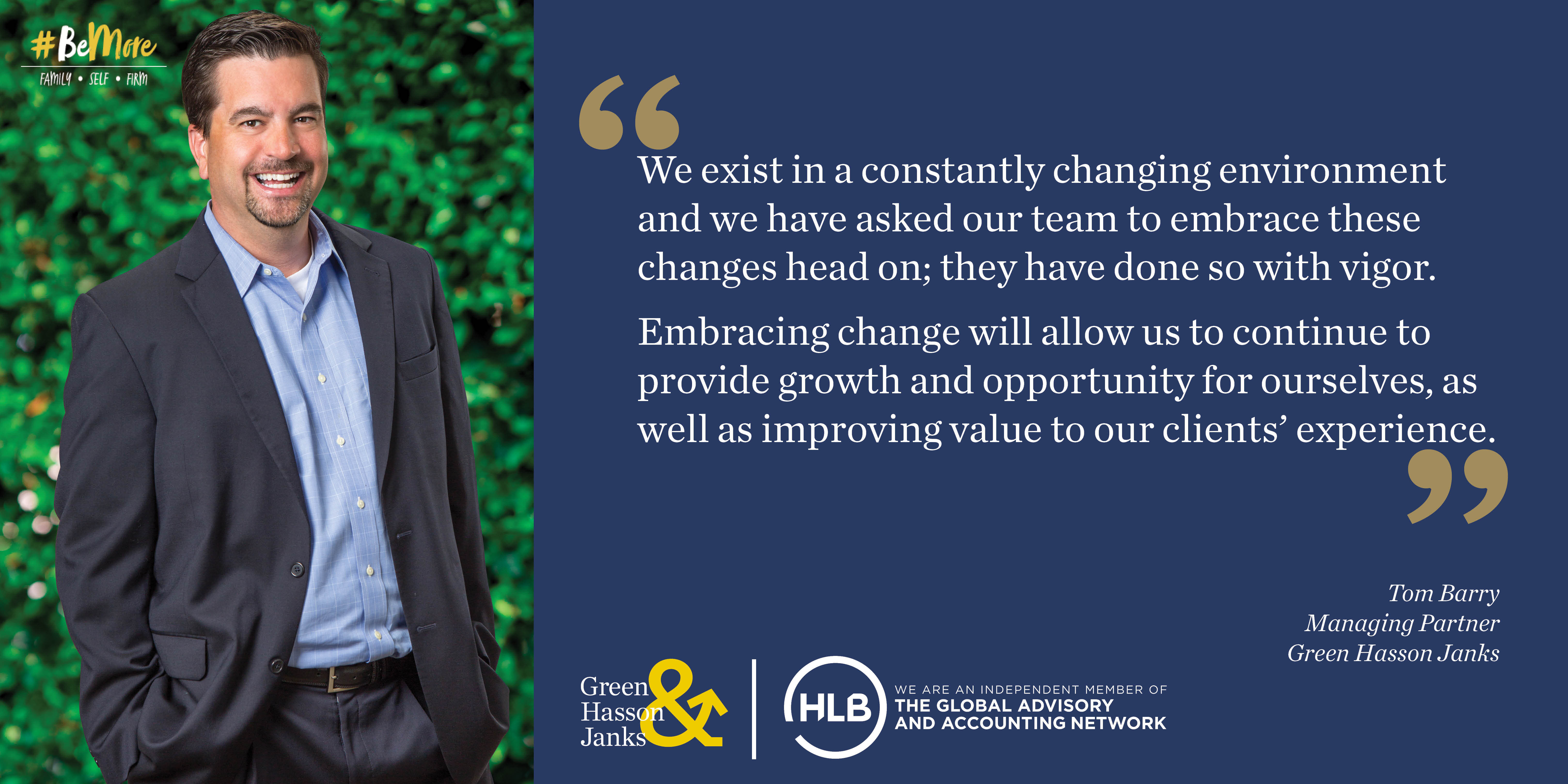 The #BeMore Culture
Barry has spearheaded the Firm's approach to work life balance. Under his vision, GHJ has developed a culture of true inclusion and work/life balance. Barry believes every day is a chance to #BeMore. Not do more. Not work more. Instead, Barry encourages employees to be the best and enjoy life to the fullest. The concept of #BeMore is simple, but the execution of it is clearly more complicated. Barry believes that CPAs have already been given many of the tools required to #BeMore. But are not always given the opportunity.
In Barry's #BeMore vision, he recognized that individual goals, whether personal or professional, have the greatest opportunity for success if employees can #BeMore to themselves, their family and the firm. These three tenets of the #BeMore philosophy are how GHJ is building a Next Generation firm under Barry's guidance.


The Accounting Firms DNA
Barry is a leading in the discussion around accounting firm's DNA. He knows the industry has been based on a historical legacy, carried over from an era where the profession looked far different than today. Accountants were essentially historians, who were paid to look back at books and records and identify issues and errors. Barry has a clear vision that accountants need to evolve to be trusted advisors who can accurately provide clients with insights to illuminate good decisions. He recognizes that firms need to be "futurists."


Change in Recruitment
Barry understands that as the profession evolves, it is important to identify and understand an accounting firm's evolving "DNA" or culture. How GHJ hires, develops and nurtures talent is the foundation for a successful organization and thriving employees and attributed to Barry's vision.
Recruiting a dynamic workforce requires change and introducing innovative programs that allow for balanced lives. CPA firms must be aware that individuals have needs and wants that go beyond work." He believes this philosophy pushes a firm to encourage employees to be the best they can be and enjoy life to the fullest. Why? Healthy people create a healthy firm, and a healthy firm attracts and retains the best and the brightest.


Generational Impact
Barry is often featured in the marketplace for his insights on recruitment trends such and generational differences. Barry understands that since a majority of a firm's employees are now in different generations from its leaders. Younger workers want a reason to come to work. They want to feel that they matter, that their work matters and that they are contributing to something bigger than themselves.
Barry guides the firm in its DNA, which includes defining what type of employee you need and want. Having a diverse workforce is key for creating a consultative approach and developing the ability to ask the right questions. When employees ask questions that come from understanding the client's culture, strengths, challenges, best practices and industry sector, they are more effective as consultants and advisors and provide a more meaningful client experience. A wider range of people and thought may also lead to new product and service offerings that differentiate your firm and the client experience.
Barry vision for their displays him as an innovative leader who focuses on the future and changing dynamics of the accounting profession.



About Anant Patel, Partner

Anant Patel is known in the industry for his leadership pushing forward the future of the accounting profession and the shift from compliance to advisory.
With more than 20 years of public accounting experience, Patel leads the Firm's Consulting and Transaction Advisory Practice. His deep expertise advising clients in the area of mergers and acquisitions and provides financial due diligence consulting has given him hands-on experience in the shift happening in the accounting industry. The Future of the Accounting Profession
Patel is often featured as a premiere thought leader in discussing the future of the accounting profession. He guides poignant conversations highlighting how firms are shifting from compliance to advisory services. He highlights the swift market plans that are taking place and how accounting firms have the opportunity to asset how well they are meeting clients' need – and how they plan to meet future need. As member of GHJ Executive Committee, he is a key decision maker at the Firm and helps develop the Firm's approach to redefining how firms deliver services.


Business Development
His emphasis on business development and growing the types of services provided by GHJ, has truly shaped the Firm's growth plans. Patel has already grown the Firm's Consulting Practice and Transaction Advisory Practice with his leadership by launching new services lines and expanding his team of experts. His clients rave about Patel's work and dedication to providing superior accounting and advisory services, which is probably a big reason why he is a leader in business development and bringing new clients to the Firm.
Patel's focus is not only on business development and growing the Firm's client list and service offerings, however. He also works closely with future leaders at the Firm to help them further develop their own business development skills as well as their consulting abilities. He is a great mentor for those starting out in the industry, and his guidance has helped grow many leaders at GHJ.


International Contributions
Patel is a trailblazer, not only at GHJ, but on an international level. His reach goes far beyond his leadership at the Firm, as he is Global Chair of the HLB International Transaction Advisory Services Group, a global accounting firm network ranked as the 12th largest network worldwide. He has also been selected to speak at several international HLB's conferences on both audit, advisory and transaction work. His leadership amongst HLB has helped accounting firms partner across the globe to better serve their clients.
Overall, Patel is dedicated to helping clients grow their businesses and partnering with companies to achieve their key goals. He is a trusted advisor dedicated to achieving financial and business success for his clients and colleagues.
Click here to view the full list in the Los Angeles Business Journal.