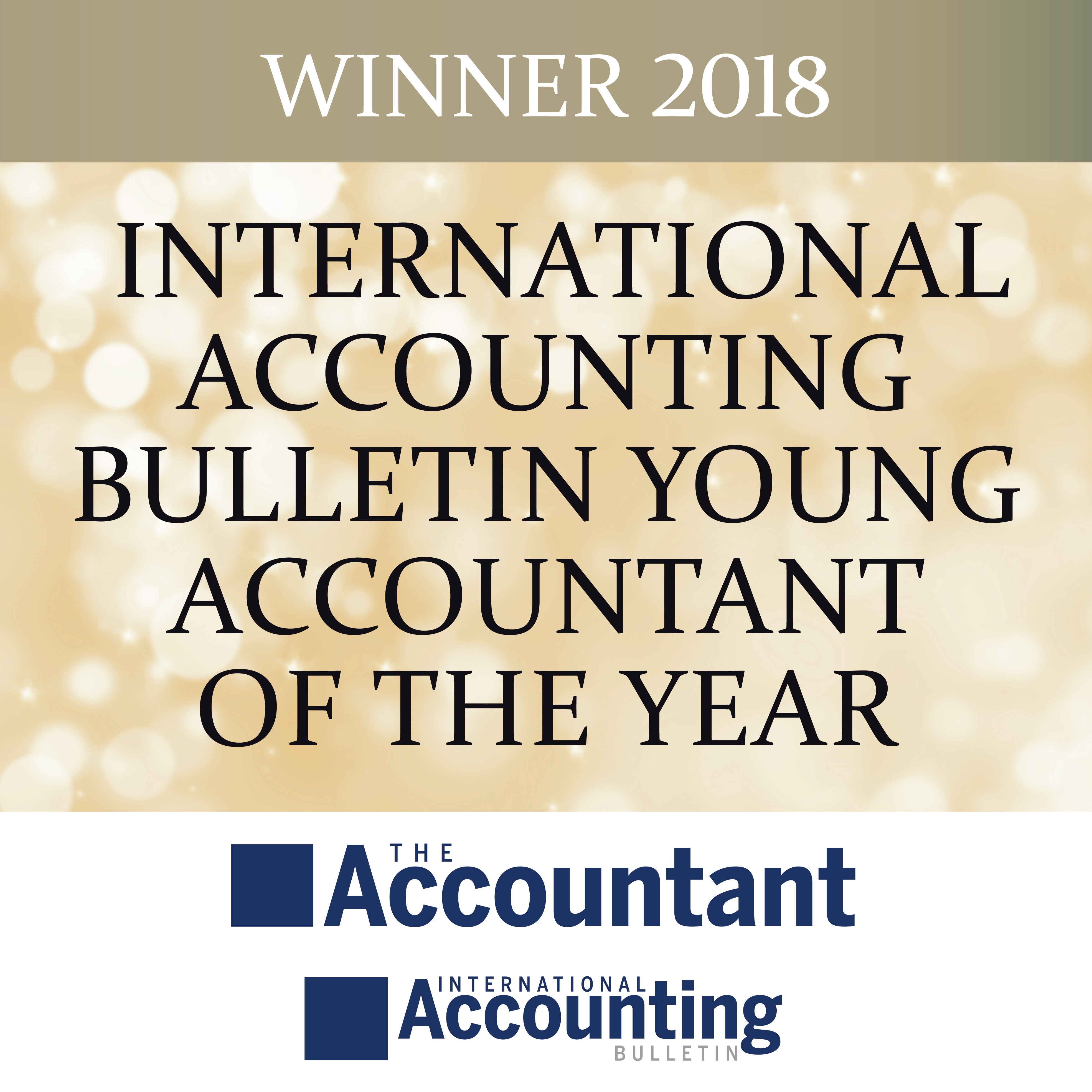 LOS ANGELES, CA – Oct. 10, 2018… GHJ (GHJ) Manager Amy Eybsen won the The Accountant and International Accounting Bulletin's "2018 International Accounting Bulletin Young Accountant of the Year" award.
"Amy is a rising star at GHJ," said GHJ Managing Partner Tom Barry. "Along with being an emerging leader in our Audit Practice, she has spearheaded several noteworthy firm initiatives. She deserves this recognition, and we are proud of her every day for all she continues to accomplish."
Now in its seventh year, The Accountant and International Accounting Bulletin Awards bring together prominent industry professionals to celebrate excellence in the accountancy profession. A gala dinner was held on the evening of Oct. 4, 2018 in London to announce and celebrate the winners. The Award judges were looking for an accountant that has made a significant difference to his or her employer along with evidence of entrepreneurial flair, technical excellence and leadership potential.
"I am honored to receive this international recognition," Eybsen said. "I am proud of the work I have done at GHJ and the impact I have been able to have as an emerging leader. The Firm has allowed me to flourish as a professional and help both my colleagues and clients #BeMore."
Eybsen is a champion of women in the workplace, an emerging business development leader and an innovator dedicated to improving technology at the Firm. In January, Eybsen and an associate were recognized as the inaugural winners of the GHJ Innovation Award for helping pilot a technology application to enhance client team communication and project management. A dedicated professional in the Firm's Audit Practice, Eybsen is focused on providing audit and consulting services in a variety of industries with a personal passion for the nonprofit industry. She manages a number of clients along with leading the engagement for a large consulting project in the nonprofit sector.
"Amy's consultative mindset enables her to serve clients in ways that complement the Firm's compliance work," said Partner Donella Wilson, head of the Nonprofit Practice. "She has distinguished herself in driving new business into the firm, has proven innovation skills, and provides an outstanding client experience on complex consulting and audit projects."
Being an emerging thought leader in the nonprofit industry, Eybsen not only contributed to GHJ's 2018 Nonprofit Whitepaper, but she recently organized and moderated a webinar on impact investing. Additionally, she leads internal and external training sessions and also sits on the Audit Department's Audit Watch Committee, which keeps the department up to date on new audit and technical accounting standards.
Eybsen also helped roll out GHJ's Women's Empowerment Initiative, which is focused on helping women achieve success at the Firm by providing training to advance women into leadership positions. As a mom returning to work, Eybsen has contributed to blogs on the topic and understands first-hand how women can #BeMore in the workplace. Her focus on both diversity and inclusion at the Firm has made her an inspiration for both her colleagues and those looking to enter the accounting field.
Eybsen is one of the Firm's emerging leaders in business development (BD) and a member of GHJ's Sales Training Academy (a core group of emerging leaders that focus on BD initiatives) and she has had success in bringing new business to the firm. Through networking and developing a BD strategy, Eybsen has been able to connect with both clients and prospects and demonstrate she really cares about their organizations' futures.
Eybsen's hard work as an accountant, a women's activist, a driven BD up-and-comer and Firm innovator showcase her leadership abilities and make her an ideal recipient of this year's International Accounting Bulletin Young Accountant of the Year.
GHJ was named a finalist for two additional awards: "Employer of the Year" for recognition of its #BeMore culture and focus on benefits that provide a work-life balance and "Thought Leadership Initiative of the Year" for distinguished publications and programs in the nonprofit niche.
…
About Amy Eybsen
Amy Eybsen, CPA, has more than eight years of public accounting experience and is a manager within the GHJ Assurance and Advisory Practice. Eybsen provides accounting, auditing and transaction services to a wide variety of companies and organizations that span multiple industries within the greater Los Angeles area, with a specialty focus on nonprofits and private foundations. Her expertise also includes transaction due diligence.
Eybsen is a member of the American Institute of Certified Public Accountants, the California Society of CPAs and of Southern California Grantmakers.
Prior to joining GHJ in 2015, she worked at a Big Four firm in its Audit Practice and managed audits involving international business combinations and purchase accounting.
Eybsen graduated from the University of Central Florida where she received a Bachelor of Science in Finance and continued on to the University of Southern California where she received a master's in Accountancy.
About GHJ
Founded in 1953, GHJ is a Los Angeles-based accounting firm that specializes in nonprofit, food and beverage, entertainment and media and health and wellness companies. Recipient of the Los Angeles Chamber of Commerce's 2018 Employee Champion For Life Work Harmony Award and named a "Best Places to Work" by the Los Angeles Business Journal eight times since 2008, GHJ is passionate about helping clients and its people #BeMore by focusing on building thriving businesses and creating a better future.
The firm works as a business advocate for its clients — providing personalized service and building long-term relationships to help position our clients for growth. Also ranked as a top-20 largest accounting firm on the Los Angeles Business Journal's Book of Lists, the firm has 12 partners and approximately 150 staff members that serve over 3,000 clients. The firm is a member of the American Institute of Certified Public Accountants (AICPA), the AICPA Governmental Audit Quality Center (GAQC), the California Society of CPAs and the California Association of Nonprofits (CalNonprofit).