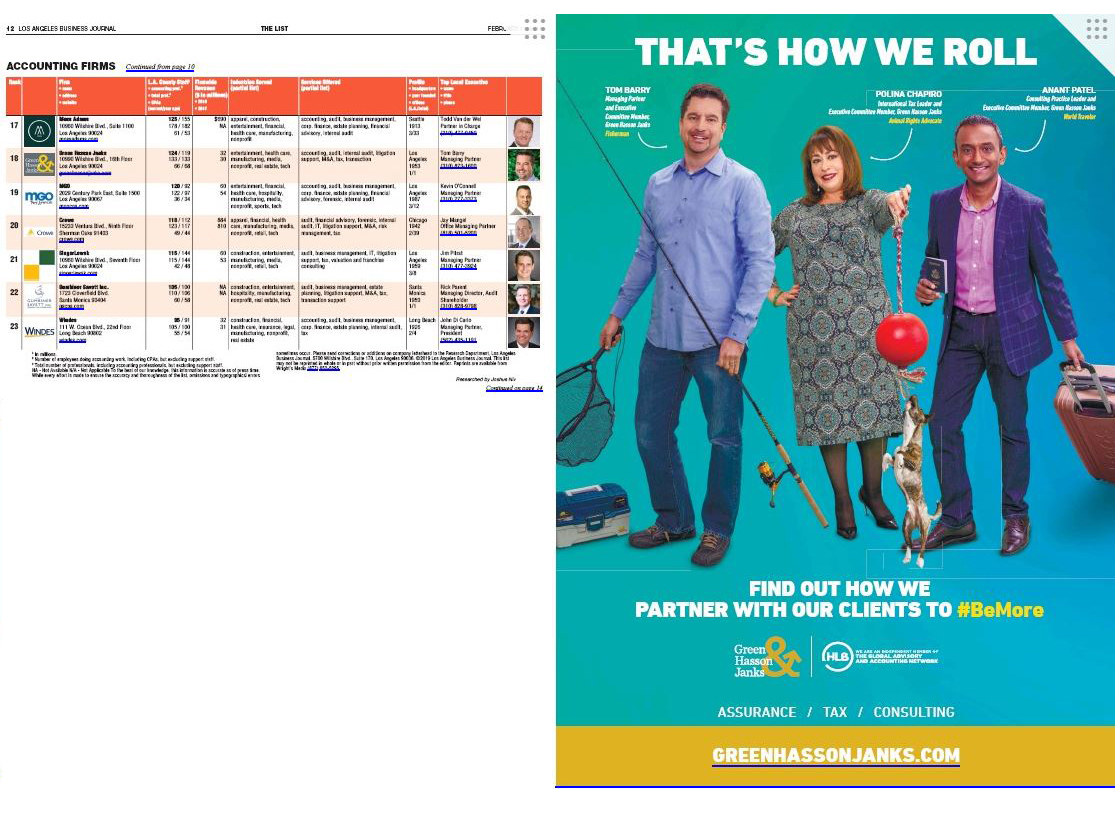 LOS ANGELES, CA – Feb. 12, 2019… GHJ moves up from #20 to #18 on Los Angeles Business Journal's list of top accounting firms. LABJ's comprehensive list compiles LA's largest accounting firms that are setting industry standards. This recognition is a result of our growth due to GHJ' continued commitment to growing great people and expanding practices.
The Firm has seen tremendous success and growth over the years. The growth is a testament to our continued commitment to our people and clients. At GHJ, we foster a flexible, entrepreneurial environment so our people achieve their personal and professional goals. The driving force for our success has been in retaining the best, diverse talent and investing in our people and technology. This commitment deepens firm expertise and fuels sustainable growth.
GHJ won Employee Champion for Life Work Harmony by the Los Angeles Chamber of Commerce for our strong work-life balance practices that support employees to #BeMore for their friends, families and self to ensure work-life harmony. GHJ' unique approach to wellness and family is ingrained in the firm culture by offering employees benefits that help them #BeMore.
Our Firm was also recognized for steering conversation in the marketplace around board governance for nonprofits, meeting consumer demands for food and beverage companies and the changing entertainment and media atmosphere. With the personnel additions of Brian Watson and Gregory Wilder, GHJ has expanded service offerings to Royalty and Licensing and High Net Worth Practices.
"Our growth from #20 to #18 can be attributed to our continued commitment to our people and clients," said Tom Barry. "We find great value in setting industry standards and will continue to bring our best to our clients."
Click here to view the complete list.