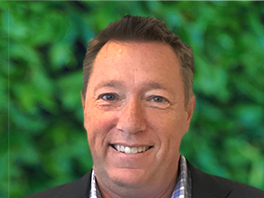 LOS ANGELES, CA (April 15, 2019) – The Los Angeles-based accounting firm GHJ (GHJ) welcomes Todd Sigler as a principal in the Firm's expanding Royalty and Licensing Practice.
"It is with great pleasure that we welcome Todd Sigler to our Firm," said Tom Barry, GHJ's Managing Partner. "His experience in royalty audit services in various industries will help further expand our Royalty and Licensing Practice into new areas, such as gaming and health sciences. We believe Todd's skills, talents and knowledge will contribute to the Firm's success and augment our service offerings."

Sigler is an accountant who brings with him over 15 years of experience in royalty audit, forensic accounting, and litigation support. He has provided his services in various industries including gaming, high technology, health sciences, entertainment and media, among others. Sigler started his career in consulting at Deloitte in their financial advisory services practice. Prior to joining GHJ, Sigler worked for RSM as a director in their litigation support and forensic accounting practice.

"We are excited about Todd joining us," said Ilan Haimoff, GHJ's Royalty and Licensing Practice Leader. "He is a natural fit to help drive the momentum we have generated in our other segments within Royalty and Licensing audits."

Sigler holds a Master of Business Administration degree from University of California Irvine, a Bachelor of Science degree in Accounting and Finance from California State University Northridge, and a Juris Doctor from Loyola Law School.

...
About GHJ
GHJ is a Los Angeles-based accounting firm that specializes in nonprofit, food and beverage, entertainment and media and health and wellness companies. Recipient of the Los Angeles Chamber of Commerce's 2018 Employee Champion For Life Work Harmony Award and named a "Best Places to Work" by the Los Angeles Business Journal eight times since 2008, GHJ is passionate about helping clients and its people #BeMore by focusing on building thriving businesses and creating a better future.

The firm works as a business advocate for its clients — providing personalized service and building long-term relationships to help position our clients for growth. Also ranked as a top-20 largest accounting firm on the Los Angeles Business Journal's Book of Lists, the firm has 12 partners and approximately 150 staff members that serve over 3,000 clients. The firm is a member of the American Institute of Certified Public Accountants (AICPA), the AICPA Governmental Audit Quality Center (GAQC), the California Society of CPAs and the California Association of Nonprofits (CalNonprofit).