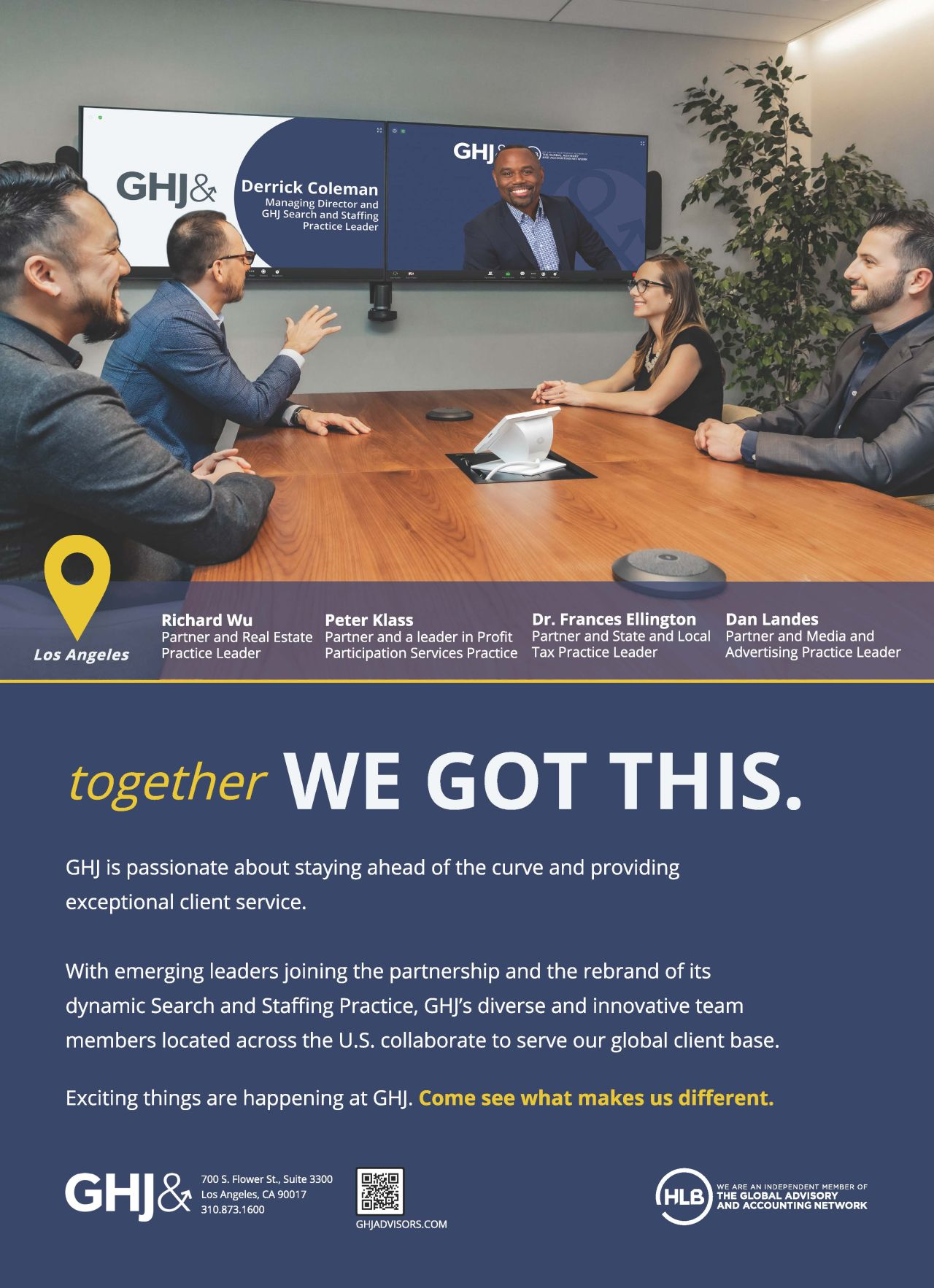 LOS ANGELES, CA (May 15, 2023) – GHJ, a national advisory and accounting firm, has won the Association for Accounting Marketing's (AAM's) Marketing Achievement Award for its 2022 print advertising campaign. This award, which honors Firms who find the most innovative ways to connect with their clients and prospects, was announced at the 2023 AAM Summit and accepted by members of GHJ's Marketing and Business Development Department.
"It is an honor to receive this recognition from AAM. GHJ is now a firm with a national footprint and global client base, and with this campaign we wanted to highlight how we continue to serve clients and meet them where they are," said GHJ Marketing and Business Development Director Jennifer Sullivan. "Awards like this reinforce the work we do, and it means so much to be recognized by our peers for these efforts."
In the past few years, the Firm expanded nationally through key hires and embraced flexible and hybrid work styles. The advertising campaign highlighted our national footprint and how our team collaborates in person and virtually to serve clients under the theme "Together We Got This."
When developing the campaign, the Firm made an intentional effort to highlight a variety of team members in different locations, positions and service areas to showcase our diversity of thought, background and expertise. Print ads were published across several publications including, national publications, the Los Angeles Business Journal, Los Angeles Times and Variety.
"At GHJ, we believe that embracing the diverse skillsets, voices and insights of our people helps us better serve our clients," said GHJ Chief Strategy Officer Mari-Anne Kehler. "We have found that an inclusive culture that encourages and supports our employees fuels innovation. More than that, we have created an environment where everyone is empowered to have a voice and provide ideas and insights to better support our clients."
AAM's Marketing Achievement Awards recognizes innovative marketing projects and initiatives. For 2023, AAM presented 23 awards, covering several categories including advertising. Entries are evaluated by a panel of accounting marketing leaders and marketing experts outside of the accounting industry.
…
About GHJ
GHJ is a national advisory and accounting firm with employees in more than 25 states and clients around the world. Our team of experts meet clients where they are and provide personalized service for nonprofit, food and beverage, entertainment and media and health and wellness companies. Ranked as a Top-100 Firm, 7th Fastest-Growing Firm and Top Regional Leader in the West by Accounting Today, GHJ is passionate about helping clients and its people #BeMore by focusing on building thriving businesses and creating a better future.
Through its affiliation with HLB International, a global network of independent professional accounting firms and business advisers, GHJ is able to partner with other top firms around the world. GHJ's audit, tax and advisory teams leverage the HLB network to partner with its clients and give clients access to member firms in over 157 countries across the globe. GHJ has 21 partners and more than 200 staff members, who serve thousands of clients. The Firm is also a member of the American Institute of Certified Public Accountants (AICPA), the AICPA Governmental Audit Quality Center (GAQC), the California Society of CPAs and the California Association of Nonprofits (CalNonprofit).
###